Order of Samantha Downing Books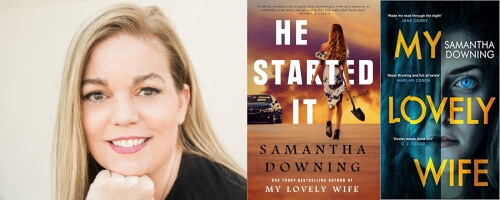 Samantha Downing is an American author out of New Orleans. She debuted as an author with My Lovely Wife. She had a unique path to publication as she wrote a dozen books before selling My Lovely Wife. Some books she finished and some she didn't, but she kept with it and eventually was published.
My Lovely Wife was nominated for an Edgar Award and was also picked up by Amazon Studios and Nicole Kidman's Blossom Films to be made into a feature film. The book is a serial killer that has been described as "Dexter, but sexier."
Publication Order of SamanthaDowning Standalone Novels
Publication Order of Short Stories/Novellas
If You Like Samantha Downing Books, You'll Love…
Samantha's debut novel, My Lovely Wife, is a thriller about a couple that has been married for fifteen years and spent most of that time keeping a big secret. Millicent and her husband have an ideal life with two kids and a nice home in Orlando. While at home Millicent runs a tight ship with no junk food for the kids and organic dinners every night, but in her free time Millicent and her husband enjoy something much different: killing young girls. This hobby has kept them going strong for years, but it begins to cause big problems for the family as this story unfolds.
Downing followed that book up with He Started It. The book follows three siblings named Beth, Portia, and Eddie Morgan. The three of them haven't been together in a long time together, but are brought together for their grandfather's wake. He has left a cryptic message behind stating that they and their partners must come together for a cross-country trip to secure their inheritance. There is money on the line and the three will do what it takes to get it, even as they would much rather forget each other and their past experience together.
Order of Books » Authors » Order of Samantha Downing Books