Order of Sara Douglass Books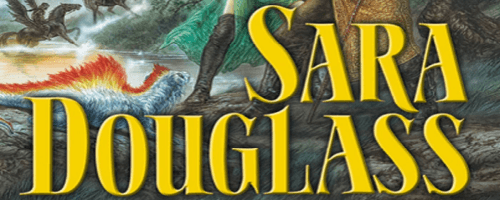 Sara Douglass is an Australian fantasy author. She is best known for writing the Axis Trilogy, the Wayfarer Redemption series, The Crucible series, and the Troy Game series.
The name Sara Douglass is a pen name used by Sara Warneke. She is a former winner of the Aurealis Award for best fantasy novel. Sara completed her PhD in early modern English History. She used this degree to work at La Trobe University. While working there as a lecturer she wrote her first novel, BattleAxe. Many of her books take place in the universe of the Axis Trilogy.
Publication Order of The Wayfarer Redemption Books
Publication Order of DarkGlass Mountain Prequel Books
Publication Order of DarkGlass Mountain Books
Publication Order of The Crucible Books
Publication Order of The Troy Game Books
Publication Order of Standalone Novels
Publication Order of Short Story Collections
Publication Order of Non-Fiction Books
Publication Order of The Year's Best Australian Fantasy and Horror Books
If You Like Sara Douglass Books, You'll Love…
The Wayfarer Redemption begins with a book of the same name. The book takes place in the Axis Trilogy universe. Achar is under attack by Gorgreal, an evil lord from the North and his ice demons. A woman named Faraday learns that all she's been told is a lie and flees for safety with Axis. She secretly loves him, but will never tell. Instead, she'll go on a journey that will change her life and help her to find out the real truth and the true nature of her people.
Hades' Daughter is the first book in the Troy Game series. The story takes place in ancient Greece where the Gods treat humans as playthings. In the core of the city-states is the Labyrinth which can shape those powers to people's own designs. Theseus entered the Labyrinth and came away with Adrianne, Mistress of the Labyrinth, and it seemed his life would be good. A woman scorned corrupted this world. Then she had a daughter and he abandoned her. Ever since then, the world has begun to change and the Labyrinths have begun to decay. A hundred years later, a warrior named Brutus is being called by the siren call of the granddaughter of Adrianne and she too carries a hatred for these men.
Order of Books » Authors » Order of Sara Douglass Books