Order of Juliet Marillier Books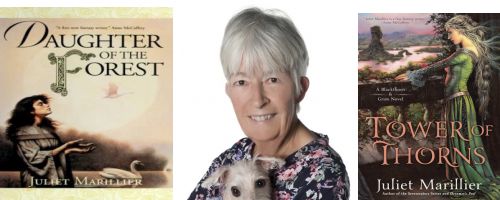 Juliet Marillier is a historical fantasy writer from New Zealand. She was born in New Zealand, but currently lives in Western Australia in a hundred-year old cottage near the river. Her books have strong elements of both folklore and history as those have been two passions throughout her life. To date, she has won five Aurealis Awards and four Sir Julius Vogel Awards.
Juliet is a member of the druid order OBOD (The Order of Bards, Ovates and Druids), a worldwide group of over twenty thousand members dedicated to Druidry spirituality. The core values of Druidry often find their way into her books, including the characters often have a strong relationship with the natural world.
Publication Order of Sevenwaters Books
Publication Order of Children of the Light Isles Books
Publication Order of The Bridei Chronicles Books
Publication Order of Wildwood Dancing Books
Publication Order of Whistling Tor Books
Publication Order of Shadowfell Books
Publication Order of Blackthorn & Grim Books
Publication Order of Warrior Bards Books
Publication Order of Collections
Publication Order of Anthologies
If You Like Juliet Marillier Books, You'll Love…
Dreamer's Pool is the first book in the Blackthorn & Grim series. This book tells the story of Blackthorn, a magic healer, and Grim, the hulking former prison mate who stands by her side. The two encounter Oran, a prince who is excited to meet his beloved that he has exchanged letters with. Upon meeting her, she is not what he expected at all and he seeks out Blackthorn and Grim for help in solving his unique problem.
Another great series is the Sevenwater series and the first book is Daughter of the Forest. Lord Calum is the father of seven children, six strong boys and his seventh child, a girl. When her father and brothers are bewitched, it is up to Sorcha to leave home for the first time and save her family. She'll go on quite the adventure as enemy forces kidnap her to take her to a foreign land where she'll have an important decision to make: love or family? This book mixes fantasy, magic, myth and history like Marillier is known best for.
Order of Books » Authors »