Order of Terry Goodkind Books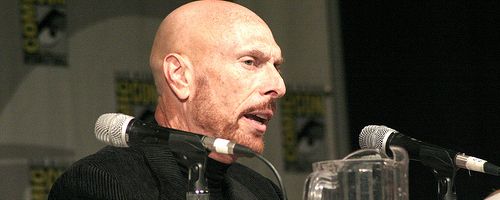 Terry Goodkind is an American novelist of epic fantasy. He is the author of The Sword of Truth series. Goodkind has been credited with the ability to write large-scale epics and being able to create an intriguing universe. Goodkind's novels explore human themes within his large and interesting fictional societies. He cites Ayn Rand as a major influence on his writing.
Goodkind made his debut as a published author in 1994 with Wizard's First Rule. At the time, he set a record by auctioning the novel to a group of three publishers for $275,000. Below is a list of Terry Goodkind's books in order of when they were originally published and in chronological order:
Publication Order of Sword Of Truth Books
Publication Order of Sister Of Darkness: The Nicci Chronicles Books
Publication Order of Children Of D'Hara Books
Publication Order of Angela Constantine / Jack Raynes Books
Publication Order of Richard & Kahlan Books
Publication Order of Standalone Novels
Publication Order of Year's Best Fantasy Books
If You Like Terry Goodkind Books, You'll Love…
Terry Goodkind Synopses: The Sky People is a standalone title by Terry Goodkind. Raging River, priestess of the Sun People, has done something unthinkable. The Sun People follow an ancient law, written by the long-vanished Sky People: they cannot kill. To other tribes, who have no such law, the Sun People are easy pickings who do not defend themselves. Their game gets poached, their stores are raided, their women abducted, their men killed in the name of sport. But when Raging River and her sister are attacked by the Wolf People, River fights back and kills one of the warriors. Worse, her victim was the son of their chief. Now, with the Wolf People vowing revenge and her people facing annihilation, River must do the impossible. She must prove herself as priestess. She must find the mythical Sky People.
The Law of Nines by Terry Goodkind is a standalone novel. Turning 27 may frighten some, but for Alex, a struggling artist living in the Midwest, it is cataclysmic. One would think inheriting a large tract of land should have made him both rich and happy; but something about this birthday, his name, and the beautiful woman whose life he just saved, has now made him – and everyone he loves – into a target. A target for extreme and uncompromising violence…
Nest is the first Angela Constantine / Jack Raynes novel by Terry Goodkind. Kate Bishop thought she was an ordinary Chicago woman. But when she unexpectedly finds herself in the middle of a police investigation into a brutal murder, Kate makes a shocking discovery: she has the ability to identify killers simply by looking into their eyes.
Trying to understand the implications of this discovery, Kate is drawn deep into a world of terror. She is tracked down by Jack Raines, a mysterious author with mysterious connections to those who share her ability. He tells Kate that her unique vision also makes her a target, and only he can help her.
Now, a group of super-predators, vicious and bloodthirsty killers are after Kate. But even as she fights for her life, Kate still isn't positive if Jack is really her protector, or another killer coming for her.
The Omen Machine is the first Richard and Kahlan novel by Terry Goodkind. An accident leads to the discovery of a mysterious machine that has stayed hidden deep underground for thousands of years. The machine awakens to begin issuing a series of increasingly alarming, if minor, omens. The omens turn out to be shockingly accurate, and growing more and more ominous. As Zedd tries to figure out how to destroy the sinister device, the machine issues a cataclysmic omen involving Richard and Kahlan, foretelling an impending event beyond anyone's ability to stop. As catastrophe approaches, the machine then reveals that it can withdraw the omen… in exchange for an impossible demand.
Order of Books » Authors » Order of Terry Goodkind Books
4 Responses to "Order of Terry Goodkind Books"