Order of Scott Meyer Books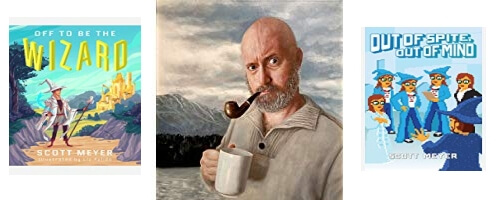 Scott Meyer is an American author best known for his Magic 2.0 series of books.
Meyer had a very interesting path to success. He worked in radio for a long time and considered himself to be rather unsuccessful. He'd then go on to work as a stand-up comic, but considered himself to only be middling. It wasn't until he took a job as a ride operator at Walt Disney World that he found himself. He began work on a web comic called Basic Instructions during this time and also self published his first novel, Off to Be the Wizard which led to a publishing deal and the Magic 2.0 series.
Publication Order of The Authorities Books
Publication Order of Magic 2.0 Books
Publication Order of Standalone Novels
Publication Order of Non-Fiction Books
Publication Order of Collections
Publication Order of Stuff You Should Know Books
If You Like Scott Meyer Books, You'll Love…
Off to Be the Wizard is the first book in the comedy and fantasy Magic 2.0 series. The book introduces us to Martin Banks who has discovered something crazy: he ca manipulate reality. No, it isn't magic. He actually has discovered that reality is just a computer program and that he can hack it. His hacks don't go unnoticed though and he decides to head back in time to a place where this sort of thing would be more accepted: the Middle Ages where he can become a wizard in King Arthur's court and find the truth behind the ancient wizard Merlin.
Meyer followed that book up with Spell or High Water which sees Martin continuing his time in medieval England. This time around he centers on his love life a bit and heads to Atlantis to meet up with Gwen. While in Atlantis, trouble finds Martin once again and he finds himself in the middle of murder, mystery, and intrigue. A tough break for a guy who is just trying to get a chance with a girl he likes.
Order of Books » Authors » Order of Scott Meyer Books