Order of Craig Alanson Books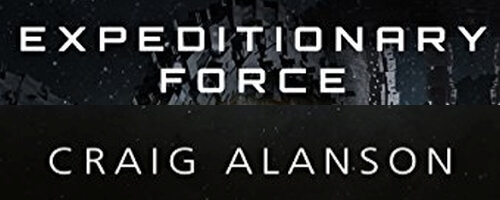 Craig Alanson is an American science fiction writer who is the author the Expeditionary Force series of books. He is also the author of the Ascendant series, among other writings.
Alanson took a curious path to writing books. One day he read a book that he find so terrible, so remarkably bad that he decided that he could write a better book and got to work. Then he just kept writing, self-publishing his books, and people started buying his books. He has since made it to the New York Times Bestseller list.
Publication Order of Aces Books
Publication Order of Ascendant Books
Publication Order of Convergence Books
Publication Order of Expeditionary Force Books
Publication Order of Expeditionary Force Mavericks Books
If You Like Craig Alanson Books, You'll Love…
Columbus Day is the first book in the Expeditionary Force series. The title refers to Columbus Day in the United States when the Native Americans did not see the settlers coming. Much like that, humanity didn't see the Ruhar coming when they attacked with their advanced weaponry. The UN strikes a deal with the Kristang, another alien race, to fight the Ruhar and many US Army soldiers are transferred to the new war. The only problem is the Ruhar aren't the enemy. The allied Kristang are.
Another popular book by Alanson is called Ascendant. The book follows a young boy named Koren Bladewell who everyone thinks is a jinx. Bad things are always happening to him, but it's not because he's a jinx – it's because he's a Wizard and his bad luck is just the power within trying to escape. The Wizard Council was supposed to tell him this, but they don't because they feel it is what is best for him. They feel he could be dangerous. His path crosses with Princess Ariana Terhayme who fears her mother may be letting their realm be conquered by an ancient enemy. The adults are trying to keep both of them down, but it may only be the two of them working together than can save the realm.
Order of Books » Authors »