Order of Freida McFadden Books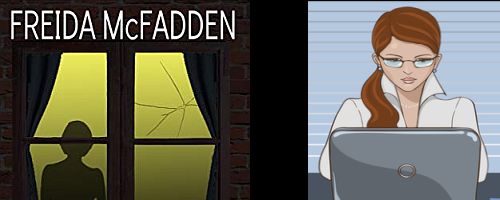 Freida McFadden is an Amazon bestselling author best known for writing thrillers like The Wife Upstairs and One By One. She made her debut as an author in 2013 with the release of The Devil Wears Scrubs, the first book in the Dr. Jane McGill series.
In addition to her work as an author, Freida is also a practicing physician who specializes in brain injury. Freida now lives with her family in an old three-story home that overlooks the ocean.
Publication Order of The Housemaid Books
Publication Order of Dr. Jane McGill Books
Publication Order of Prescription: Murder Books
Publication Order of Standalone Novels
Publication Order of Short Stories/Novellas
Publication Order of Anthologies
If You Like Freida McFadden Books, You'll Love…
The Locked Door is a gripping psychological thriller by McFadden. The story follows a woman named Nora Davis who as a child had no idea what her father was doing in the basement. She would be up in her bedroom doing her homework while her father was in the basement murdering women. Then one day the police arrived at their door and her father was put away for a long time. Nora is now working as a successful surgeon and living a quiet life, making sure that no one knows about her father. However, someone knows about her father as she learns when one of her patients is murdered in the same way that her father used to. Somebody is killing women and they want Nora to take the fall for the crime. She's not like her father though and she knows the police can't pin anything on her. Unless they look in her basement…
The Wife Upstairs is another bestselling thriller by McFadden. The story follows a woman who has everything. Victoria Barnett has a great career, an amazing husband, a beautiful home, and life is perfect. Then she gets into a terrible accident which will cause it all to fall apart. She ends up unable to walk, feed herself or speak. She is confined to her bed while a nurse is hired to care for her. However, Victoria isn't as impaired as she seems and she has a story to tell. She just needs Sylvia's help.
Order of Books » Authors »
One Response to "Order of Freida McFadden Books"