Order of Shiloh Walker Books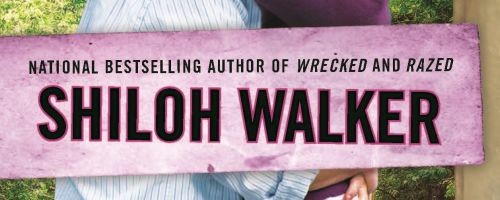 Shiloh Walker resides in the midwest and married since 19 to her high school sweetheart with three lovely children. Born in Kentucky and has been a reader since the tender age of six but it was in middle school when she began to focus more and more on writing, helping her along the way was a very boring teacher. At one time Shiloh worked as a nurse and while in nursing school a friend told her that she'd had a dream that she saw a book with Shiloh's name on it and at that time no one knew she liked writing.
Shiloh loves anything paranormal, fantasy but mainly anything romantic and fell in love with the novel Bunnicula and has since made her way into more serious vampire novels. She began writing full time in 2004 while her children are growing up to quickly and her husband doesn't see her enough.
Publication Order of Hunters Books
Publication Order of Mythe Books
Publication Order of Firewalkers Books
Publication Order of Veil Books
Publication Order of FBI Psychics Books
Publication Order of Grimm's Circle Books
Publication Order of Rafferty Books
Publication Order of Ash Trilogy Books
Publication Order of Colbana Files Books
Chronological Order of Colbana Files Books
Publication Order of Barnes Brothers Books
Publication Order of Secrets & Shadows Books
Publication Order of McKays Books
Publication Order of Heroes & Heartbreakers Books
Publication Order of SEALionaire Books
Publication Order of F*ck Club Books
Publication Order of Vegas Knights Books
Publication Order of Standalone Novels
Publication Order of Short Stories/Novellas
Publication Order of Short Story Collections
Publication Order of Omnibus Books
Notes: Her Wildest Dreams was also published as Wicked Wild Fantasies. His Christmas Cara was also published as Her Sexy Scrooge. Whipped Cream and Handcuffs was also known as Seduced in Secret. Cops and Cowboys was co-authored with Lora Leigh. The SEALionaire series and the standalone novel Ex-Con were written with M.S. Parker. The Vegas Knights series is co-authored by Bella Love-Wins.
The Twelve Quickies of Christmas, Vol. 1 also contains stories by Rachel Bo, R. Casteel, Kate Douglas, Lora Leigh and Ashleigh Raine. Legendary Tails II also contains stories by Jaci Burton, Margaret Carter, Tielle St. Clare, Jan Springer and Charlene Teglia. A Wish, a Kiss, a Dream also has stories by Lora Leigh and Mary Wine.
Seasons of Magick also has stories by Jennifer Dunne. Hot Spell also has stories by Meljean Brook, Emma Holly and Lora Leigh. All She Wants also includes stories by Dominique Adair and Jaid Black. A Hot Man is the Best Revenge also has stories from Delilah Devlin and Beverly Havlir. Doing It the Hard Way also has stories by Madison Hayes and T.J. Michaels.
Good Things Come in Threes also has stories by Anya Bast and Jan Springer. The Hottie Next Door also includes stories by Elisa Adams and Ruth D. Kerce. Hot in Handcuffs also includes stories by Shayla Black and Sylvia Day. Wicked also includes stories by Shayla Black, Sylvia Day, Cathryn Fox, Mackenzie McKade, Karin Tabke and Beth Williamson.
If You Like Shiloh Walker, You'll Love…
Shiloh Walker Synopsis: The Virgin's Night Out is a novel by Shiloh Walker. This novel also includes a bonus story Tempt Me. Shy and timid, Sloan Redding is dumped by the man she was to marry on the morning of her wedding and takes off leaving Nowhere, Alabama for a job in the city. She is determined to reinvent herself and on the outside it seems she has but the inside is vastly different, she's still shy, quiet and more interested in being a wallflower than the center of attention. The evening prior to her brother's wedding, Sloan walked into the single bar back in Nowhere, Alabama and she's dressed to impress, wearing red and wanting to show her ex-fiance just what a prize he lost. D.B. "Boone" Cassidy walks into the same bar and his goal is to get drunk. Having spent the last few years as a security specialist and troubleshooter, this former military man he should have been able to see trouble in his sights when he saw Sloan in her wicked red, yeah right. After a night with his lady in red imagine his shock when he finds out he was just wrapped around his best friend's little sister… but there are other surprises yet to come.
Order of Books » Authors » Order of Shiloh Walker Books