Order of Sonya Lalli Books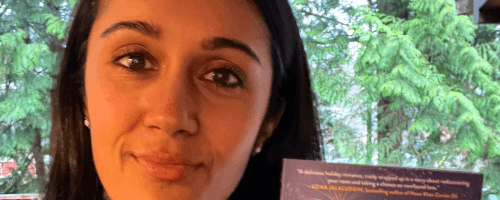 Sonya Lalli is a Canadian author of romance and women's fiction. She also writes psychological thrillers as S.C. Lalli. She is of Indian (Punjabi/Bengali) heritage. Sonya grew up in Saskatoon, Saskatchewan, and studied law there. She also studied law at Columbia University in NYC. She earned an MA in Creative Writing and Publishing at City University London. Sonya has her black belt in Tae Kwon Do, and enjoys travel, yoga, piano, reading, and making cocktails. She lives in Vancouver, British Columbia with her husband.
Sonya Lalli made her debut as a novelist in 2019 with The Arrangement. Below is a list of Sonya Lalli's books in order of when they were originally published:
Publication Order of Standalone Novels
| | | |
| --- | --- | --- |
| The Arrangement | (2019) | |
| The Matchmaker's List | (2019) | |
| Grown-Up Pose | (2020) | |
| Serena Singh Flips the Script | (2021) | |
| A Holly Jolly Diwali | (2021) | |
| Are You Sara? | (2022) | |
| Jasmine and Jake Rock the Boat | (2023) | |
If You Like Sonya Lalli Books, You'll Love…
Sonya Lalli Synopses: The Matchmaker's List is a standalone novel by Sonya Lalli. Raina Anand may have given up resisting and agreed to let her grandmother play matchmaker, but that doesn't mean it's what she wants – or that she has to play by the rules. Nani always took Raina's side when she tried to push past the traditional expectations of their tight-knit Indian-immigrant community, but now she's ambushing Raina with a list of suitable bachelors. Is it too much to ask for a little space? Besides, what Nani doesn't know can't hurt her…
As Raina's life spirals into a parade of Nani-approved bachelors and disastrous blind dates, she must find a way out of this modern-day arranged-marriage trap without destroying her beloved grandmother's dreams.
Grown-Up Posse by Sonya Lalli is a standalone title. Who would've thought adulting would be so difficult? Especially in your thirties. Having been pressured by her tight-knit community to get married at a young age to her first serious boyfriend, Anu Desai is now on her own again and feels like she is starting from the beginning.
But Anu doesn't have time to start over. Telling her parents that she was separating from her husband was the hardest thing she's ever done – and she isn't even past the fallout. She has her young daughter to support and when she invests all of her savings into running her own yoga studio, the feelings of irresponsibility send Anu reeling. She'll be forced to look inside herself to learn what she truly wants.
In Serena Singh Flips the Script by Sonya Lalli, things are going well for Serena. She's smart, confident, and just got a sweet new job at a top advertising firm in Washington, D.C. Even before her younger sister gets married in a big, traditional wedding, Serena knows she isn't looking to get married or have kids. But with her mother wanting her to be more like her sister, Serena can't understand why her parents fail to recognize that she and her sister want entirely different things in life.
A new friendship with her co-worker, Ainsley, comes as a breath of fresh air, challenging Serena's long-held beliefs about the importance of self-reliance. She's been so focused on her job that she's got no hobbies and her friendships are going downhill. As Serena reconnects with her family and friends – including her ex-boyfriend – she learns letting people in can make her happier than standing all on her own.
Order of Books » Authors » Order of Sonya Lalli Books