Order of Sparkle Hayter Books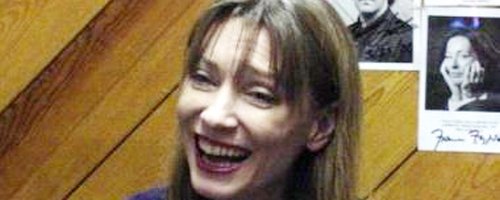 Sparkle Hayter is a Canadian author and journalist. Her first novel was What's a Girl Gotta Do? which was the first in the Robin Hudson series. The book was a big hit and got great reviews which led to many more books in the series.
Hayter graduated from New York University in film and television production, and went on to work for CNN, WABC in New York, and Global Television. As a reporter she moved to Pakistan and Afghanistan. After doing all of that, she decided to give up her career as a journalist and make a new career. She started working as a comic and writer for a time before writing her first novel.
Publication Order of Robin Hudson Books
Publication Order of Standalone Novels
Publication Order of Short Stories/Novellas
Publication Order of Anthologies
If You Like Sparkle Hayter Books, You'll Love…
What's A Girl Gotta Do? is Hayter's first novel and an Arthur Ellis Award winner. The book follows a third-string reporter named Robin Hudson who works at New York's All News Network. She is being harassed by a mystery late-night caller that is blackmailing her with person information about her childhood. When the harasser turns up dead, she becomes the prime suspect. Robin will investigate to clear her name and find the killer as she races to break the story before she becomes the next victim.
Another good book in the series is called Nice Girls Finish Last. This book sees Robin pursuing a story by attending an S&M club. She's there because her OB/GYN was shot through the heart and left handcuffed to his office chair. The only clue is a matchbook to an S&M club which is where Robin finds herself now. Her boss is pushing for the investigation, even as shots are fired at All News Network anchormen. The shots are connected to the doctor and Robin is doing her best to dodge the bullets that are coming her way as she investigates.
Order of Books » Authors » Order of Sparkle Hayter Books