Order of Spider Robinson Books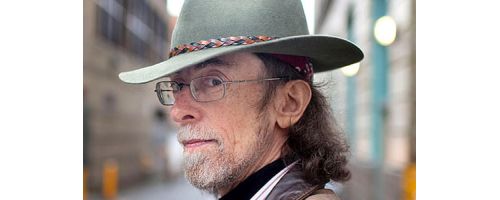 Spider Robinson is a science fiction author best known for his Callahan series of books. Born in New York City, Robinson now lives in Canada where has lived for most of his life.
After graduating high school and finishing college, Robinson had some very interesting experiences that helped him in his future of writing science fiction. He lived for a number of years in the woods in an attempt to live technology free. He would later work as a security guard, guarding the sewers of New York City at night. He wrote his first science fiction story as a way to get out of this job and has went on to a great career since.
Publication Order of Callahan's Books
Publication Order of Lady Sally's Books
Publication Order of Lifehouse Trilogy Books
Publication Order of Russell Walker/Zandor Zudenigo/Nika Mandiç Mysteries Books
Publication Order of Stardance Books
(with Jeanne Robinson)
Publication Order of Standalone Novels
Publication Order of Non-Fiction Books
Publication Order of Collections
Publication Order of Author's Choice Monthly Books
Publication Order of Anthologies
If You Like Spider Robinson Books, You'll Love…
The first book in the Callahan series is Callahan's Crosstime Saloon. It tells us the story of Callahan's Place, a neighborhood tavern for the entire universe and all of time and space. The bar is frequented by time travelers, telepaths, aliens and much more. The book centers on tales told at the tavern and the people that are doing what they can to save the world, one customer at a time. A funny story in the vein of Douglas Adams.
Very Bad Deaths is the first book in the Russell Walker series. Walker has lost his wife and wants nothing more than to head into the woods and forget about the world. The world has other ideas though. Walker tries to escape, but finds himself caught up in the search for an awful serial killer who is building quite a resume. Walker is the only person who can communicate with a telepath named Smelly who may have the key to finding the killer and only Walker can get this information to people who need it.
Order of Books » Authors »