Order of Steven Gould Books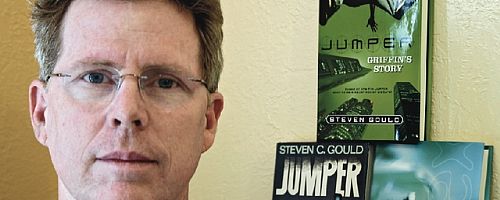 Steven Gould is an American author best known as the author of Jumper which was turned into a major motion picture. He is also the author of Impulse, a sequel to Jumper, which was made into a streaming television series.
Gould attended Texas A&M University and sets many of his books. His journey into science fiction would take place as he attended Aggiecon, a science fiction convention, there and then later returned to serve as chair for the event. Steven now makes his home in Albuquerque, Next Mexico where he lives with his wife and two daughters.
Publication Order of 7th Sigma Books
Publication Order of Jumper Books
Publication Order of Standalone Novels
Publication Order of The Year's Top Ten Tales of Science Fiction Anthology Books
Publication Order of Anthologies
If You Like Steven Gould Books, You'll Love…
Jumper is the sci-fi classic from Steven Gould. The book follows Davy who has the ability to teleport. He discovers his ability after being abused by his father and jumping to the safest place he knows. He decides to never return home again just like his mother had and heads off to New York City. While there he learns to gain control of his powers and starts to wonder if his mother could jump too. He uses jumping to survive in New York at first, but then decides to use his abilities for good while also looking out for others like him.
Another book in the Jumper series is Impulse. The book follows a young girl named Cent whose parents are Jumpers. They are in hiding from those who wish to gain control of her parents abilities, including the government. Despite the seclusion, Cent has managed to see the world and probably teleported more than anyone on the planet outside of her parents. However, she's never been able to do it herself. Then one day while snowboarding she triggers an avalanche… and ended up back in her bed. That was the first time she jumped, it won't be the last.
Order of Books » Authors » Order of Steven Gould Books