Order of Tim Baker Books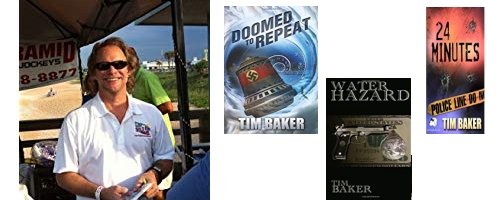 Tim Baker is an American author and former architect and engineer. He had the idea of writing a novel way back in 1988, but had trouble trying to format it without a computer or a typewriter and shelved the idea until later in life. He would publish his first book in 2010 with Living the Dream. That book that he started in 1988, Full Circle was finally finished and published in 2015.
Baker is an avoid dog lover who has volunteered for Guiding Eyes for the Blind as one of their puppy raisers, working to raise potential guide dogs. In addition to his work in Architecture and Engineering background, he also worked in the natural gas industry, construction, and ice cream sales.
Publication Order of Standalone Novels
| | | |
| --- | --- | --- |
| Water Hazard | (2008) | |
| Living the Dream | (2009) | |
| Pump It Up | (2012) | |
| Back Seat to Justice | (2012) | |
| Dying Days: The Siege of European Village | (2012) | |
| Unfinished Business | (2013) | |
| Eyewitness Blues | (2014) | |
| Full Circle | (2015) | |
| No Good Deed | (2016) | |
| Blood in the Water | (2016) | |
| 24 Minutes | (2018) | |
| Doomed to Repeat | (2018) | |
Publication Order of Short Story Collections
If You Like Tim Baker Books, You'll Love…
Baker's first book was called Living the Dream and it was a humorous crime story about a loser named Kurt. He comes up with a half-baked plan to kidnap a woman and hold her husband for ransom. There are just a few problems though: she's out of town and her husband is thinking of divorce her. Kurt then finds himself caught up with the husband's mistress, a bookie, a biker and an ex-Navy SEAL who all want a piece of him. Kurt's plan isn't working out as easy as he thought and it may just get him killed.
Doomed to Repeat is another popular book by Baker. This one tells of The Bell, known as Die Glocke to the Germans who though tit could change history back in World War II. Today, two men wash up on a Florida shore with a corpse besides them. These men have no memories, but they decide it's best to get away. An ex-Navy SEAL comes to their aid, but soon realizes that he may have bitten off more than he can chew as the CIA, KGB and more are after the men.
Order of Books » Authors » Order of Tim Baker Books