Order of Tom Fowler Books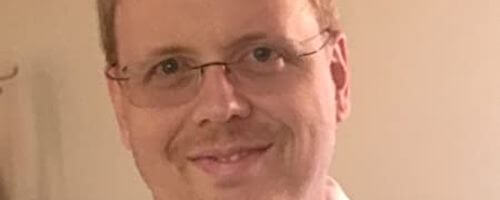 Tom Fowler is an American author of mystery/thriller novels. He writes the C.T. Ferguson series. Tom was born and raised in Baltimore, Maryland. He always knew he wanted to write growing up. He would race bikes with his friends and go home to write stories – including a murder mystery where no one died. During the day, Tom works in computer security. He is an unapologetic fan of the Baltimore sports teams. Tom lives in Maryland, near Washington D.C.
Tom Fowler made his debut as a novelist in 2017 with The Reluctant Detective. Below is a list of Tom Fowler's books in order of when they were originally published:
Publication Order of C.T. Ferguson Books
| | | |
| --- | --- | --- |
| The Reluctant Detective | (2017) | |
| The Unknown Devil | (2018) | |
| The Workers of Iniquity | (2018) | |
| Already Guilty | (2018) | |
| Daughters and Sons | (2019) | |
| A March from Innocence | (2019) | |
| Inside Cut | (2019) | |
| The Next Girl | (2020) | |
| In The Blood | (2020) | |
| A Handful of Dust | (2021) | |
| Right as Rain | (2021) | |
| Dead Cat Bounce | (2021) | |
| Don't Say Her Name | (2022) | |
Publication Order of C.T. Ferguson Short Stories/Novellas
Publication Order of John Tyler Books
| | | |
| --- | --- | --- |
| The Mechanic | (2020) | |
| White Lines | (2021) | |
| Lost Highway | (2021) | |
| Four on the Floor | (2022) | |
| Forced Induction | (2023) | |
If You Like Tom Fowler Books, You'll Love…
Tom Fowler Synopses: The Reluctant Detective is the first C.T. Ferguson novel by Tom Fowler. C.T. Ferguson spent years as a hacker. He lived in Hong Kong, working against the Chinese government. Then they found him, tossed him in jail, and eventually kicked him out. In Baltimore, C.T. becomes a private investigator.
Then Alice walks in. She's sure her husband is cheating on her. C.T. looks into it but isn't as sure. He soon discovers Alice has serious problems of her own.
When Alice's troubles get even worse, C.T. finds his own life in danger. With a liar for a client and enforcers hounding him, can C.T. prevent his first case from also being his last?
The Unknown Devil is the second book in the C.T. Ferguson series. Hacker C.T. Ferguson uses the skills from his previous job as a private investigator. When a legendary programmer disappears, he can't pass up the opportunity to solve the mysterious disappearance.
Soon after taking the case, he receives a visit from a notorious Baltimore gangster looking to put some heavy computing power behind his nascent criminal empire.
Turning down the ransomware gig puts C.T. on a dangerous shortlist. But it also may have just given him the clue he needs to crack his missing persons case wide open.
Following the trail of digital footprints into the real world, C.T. must decode the connection between the MIA programmer and the criminal underworld before his hometown falls prey to a high-tech reign of terror.
The Workers of Iniquity is the third book in the C.T. Ferguson series by Tom Fowler. Private investigator C.T. Ferguson believes justice shouldn't come with a price tag. As a trust fund baby and former hacker, he uses his considerable resources to track down criminals who prey on those who are most vulnerable. So when an old acquaintance falls on hard times, he vows to solve the mystery of her missing husband and empty bank account.
Following the digital trail, he uncovers a grisly hotel room crime scene. But the husband's ruthless loan shark won't draw the line at one dead body. When the clues take an unexpected turn, C.T. realizes he's stumbled onto a sinister black market where humanity's worst sins are sold to the highest bidder.
Before the criminal syndicate sets its sights on him, C.T. must act quickly to short circuit their deplorable operation before more victims fall prey to their dark designs.
Order of Books » Authors » Order of Tom Fowler Books