Order of Valerie Valdes Books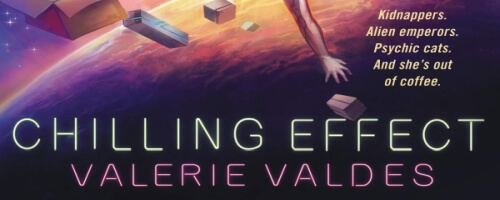 Valerie Valdes is an American author best known for writing the Chilling Effect series of books. She published her debut novel, Chilling Effect, in 2019 and then released the sequel, Prime Deceptions, in 2020.
Valerie studied at the the University of Miami where she majored in English literature with minors in creative writing and motion pictures. She was also an attendee of Viable Paradise, an annual one-week residential writing workshop held each autumn on the island of Martha's Vineyard. The workshop focuses on speculative fiction writing and Valdes has taught in that same area. Additionally, she has served as a Municipal Liaison for National Novel Writing Month for over a decade.
Publication Order of Chilling Effect Books
Publication Order of Standalone Novels
Publication Order of Anthologies
If You Like Valerie Valdes Books, You'll Love…
Chilling Effect is Valerie's debut and introduces us to Captain Eva Innocente and the crew of La Sirena Negra. The ship gets by delivering small cargo for smaller profits. That all changes when Eva's sister is kidnapped by a syndicate known as The Fridge that makes Eva take on a number of dangerous missions in order to get her back. Eva tries to keep all this secret from her crew, but that just makes her struggle and it causes the crew's suspicions rise. Eva will do anything to free her sister, but there is another threat out there that is greater than she could possibly imagine.
Eva and the crew of La Sirena returned in Prime Deceptions. Eva and the crew take on the mission of location a missing scientist which offers a big payday and the chance to do something good. The search will take them across the galaxy and takes them to a place that Eva never wanted to see again. Garilia is the home of her most shameful failure and she'll have to navigate it to complete the job.
Order of Books » Authors »