Order of Zora Neale Hurston Books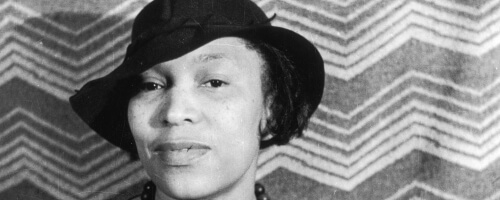 Zora Neale Hurston was a writer and anthropologist who was best known for writing the classic, Their Eyes Were Watching God. While her work was known in her life, it wasn't until after she died that she started to receive the type of recognition that she deserved for her writing.
Hurston was born as the daughter to two former slaves. She graduated from Howard University with an associate degree and then moved to New York City's Harlem neighborhood in the 1920s. It was there that she became well known in the city's art scene and began her writing career. One of her first acclaimed works was the short story, Sweat that told the story of a woman dealing with an unfaithful husband who takes her money, before receiving his comeuppance.
Publication Order of Standalone Novels
Publication Order of Short Stories/Novellas
Publication Order of Short Story Collections
Publication Order of Plays
Publication Order of Picture Books
Publication Order of Non-Fiction Books
Publication Order of Anthologies
If You Like Zora Neale Hurston Books, You'll Love…
Their Eyes Were Watching God is a story told by its main character, Janie Crawford. she tells her friend her life story in a beautiful language and her life is rather interesting with many ups and downs, filled with pain and love. Janie tells of her Nanny who saw what pain did to her daughter and promises not to let it happen to her granddaughter. She didn't want what happened to happen to her grandchild and nothing mattered, even if Janie was unhappy. The story goes on to tell of the years after Emancipation when the slaves were freed, but life was still rather difficult. The story mixes real history of this time with strong female characters and is a beloved classic.
Hurston is also the author of Hitting a Straight Lick with a Crooked Stick: Stories from the Harlem Renaissance that collects many of her short works from the period of the Harlem Renaissance that captured the zeitgeist of African American life at the time.
Order of Books » Authors » Order of Zora Neale Hurston Books