Order of Agatha Raisin Books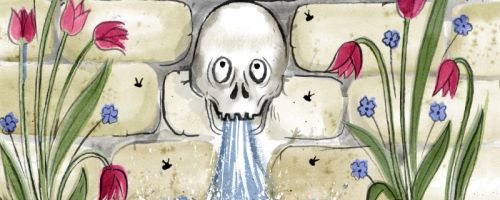 Agatha Raisin is a character and series of mystery novels by Scottish author M.C. Beaton (Marion Chesney). Raisin starts out as a frustrated PR agent in London who decides to retire from that line of work, moves to the Cotswolds and begins solving murders as a detective.
The Agatha Raisin series started in 1992 with Agatha Raisin and the Quiche of Death and continues on to this day with over 20 novels in the series. Below is the order of when each of M.C. Beaton's Agatha Raisin books were originally released:
Publication Order of Agatha Raisin Books
The Quiche of Death
(1992)
The Vicious Vet
(1993)
The Potted Gardener
(1994)
The Walkers of Dembley
(1995)
The Murderous Marriage
(1996)
The Terrible Tourist
(1997)
The Wellspring of Death
(1998)
The Wizard of Evesham
(1999)
The Witch of Wyckhadden
(1999)
The Fairies of Fryfam
(2000)
The Love from Hell
(2001)
The Day the Floods Came
(2002)
The Case of the Curious Curate
(2003)
The Haunted House
(2003)
The Deadly Dance
(2004)
The Perfect Paragon
(2005)
Love, Lies and Liquor
(2006)
Kissing Christmas Goodbye
(2007)
A Spoonful of Poison
(2008)
There Goes the Bride
(2009)
Busy Body
(2010)
As The Pig Turns
(2011)
Hiss and Hers
(2012)
Christmas Crumble
(2012)
Something Borrowed, Someone Dead
(2013)
Hell's Bells
(2013)
The Blood of an Englishman
(2014)
Agatha's First Case
(2015)
Dishing the Dirt
(2015)
Pushing up Daisies
(2016)
The Witches' Tree
(2017)
The Dead Ringer
(2018)
Beating about the Bush
(2019)
Hot to Trot
(2020)
Down the Hatch
(2021)
Devil's Delight
(2022)
Agatha's First Case is a prequel novella in the series.
Publication Order of Agatha Raisin Non-Fiction Books
Note: The book titles may or may not contain "Agatha Raisin and the…" as a prefix to the title.
If You Like Agatha Raisin Books, You'll Love…
Order of Books » Characters » Order of Agatha Raisin Books
23 Responses to "Order of Agatha Raisin Books"