Order of M.C. Beaton Books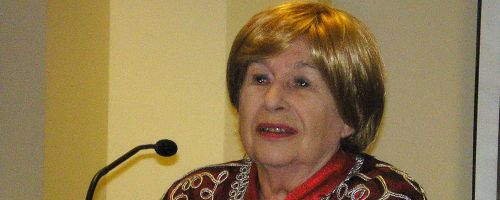 Marion Chesney was a prolific Scottish novelist who often went under the pen name M.C. Beaton. Under her real name (actually, her real last name is "McChesney"), she writes romance novels including the Travelling Matchmaker series. Under the name M.C. Beaton, she has written over 20 Agatha Raisin and nearly 30 Hamish Macbeth mystery novels. Chesney has also used the pseudonyms Ann Fairfax, Jennie Tremaine, Sarah Chester, Helen Crampton, Marion Gibbons and Charlotte Ward.
Chesney had her first novel published in 1979. Since that time, she has barely put the pen down, having written over 100 novels. Below is the order of when all of Marion Chesney's novels were originally published.
Please note: the only novels listed are the novels written under the pen name of M.C. Beaton originally. While Marion did republish the majority of her novels under M.C. Beaton, the books listed below are the ones truly written under that pseudonym. To see a full list you can see our page on Marion Chesney.
Publication Order of Agatha Raisin Books
Publication Order of Agatha Raisin Non-Fiction Books
Publication Order of Hamish Macbeth Books
(with R.W. Green)
Publication Order of Hamish Macbeth Short Stories/Novellas
(with R.W. Green)
Publication Order of Standalone Novels
Publication Order of Cozy Case Files Mystery Sampler Books
Notes: Agatha Raisin, Hamish Macbeth and The Skeleton Under the Closet were written under the name M.C. Beaton. My Dear Duchess was written under the pseudonym Ann Fairfax. The "Jennie Tremaine" books listed are the books Chesney wrote under that pen name. The remaining novels listed here were published under the name Marion Chesney.
Death of a Glutton was also published as Death of a Greedy Woman.
If You Like M.C. Beaton Books, You'll Love…
M.C. Beaton Synopses: The Quiche of Death is the first book in the Agatha Raisin series by M.C. Beaton. Putting all her eggs in one basket, Agatha Raisin gives up her successful PR firm, sells her London flat, and looks to retire early in the quaint village of Carsely. Bored, lonely and used to getting her way, she enters a local baking contest: she figures she can get a Blue ribbon for her quiche. But her recipe for social advancement sours when Judge Cummings-Browne not only snubs her entry – but collapses and dies! After her quiche ends up to be poisonous, she must reveal the unsavory truth…
Agatha has never baked a thing in her life! In fact, she bought her quiche ready-made from a high-end quicherie in the city. Grating on the nerves of several Carsely residents, she is soon receiving sinister notes. Has her cheating and meddling got her in trouble, or are the threats related to the suspicious death? It may mean the difference between egg on her face and a coroner's tag on her toe…
Death of a Gossip by M.C. Beaton is the first Hamish Macbeth novel. When society widow and gossip columnist Lady Jane Winters joined the fishing class, she wasted no time in ruffling the feathers – or fins – of those around her. Among the victims of her sharp tongue and unladylike manner was Lochdubh Constable Hamish Macbeth. Yet not even Hamish thought someone would permanently silence Lady Jane's shrills – until her strangled body is pulled out of the river. Along with the lovely Priscilla Halburton-Smythe, Hamish go through everything in Winters' life to find the murderer. But with a series of suspects who talking and dead women saying even less, Hamish may be in over his head, for he knows that secrets are dangerous, knowledge is power, and killers are known to strike more than once.
Death of a Laird by M.C. Beaton & R.W. Green is a short story in the Hamish Macbeth series. When Sergeant Hamish Macbeth is sent to look into reports that the wealthy new laird of the remote Naglar House has gone missing, northwest Scotland is hit by the worst storm in memory. The road is washed away, phone lines are down, cell reception is non-existent and his police radio is out of commission. He is trapped with the laird's high-class house guests. Then he sees the laird's body.
Forced to stay overnight at the house, Hamish talks to each of the guests and pieces together an alarming picture of infidelity, jealousy, revenge, lust, greed and fear. It begins to look like all of the guests had good reason to want the laird dead, but which one of them is the one that did him in?
Order of Books » Authors » Order of M.C. Beaton Books
6 Responses to "Order of M.C. Beaton Books"