Order of Ellis Peters Books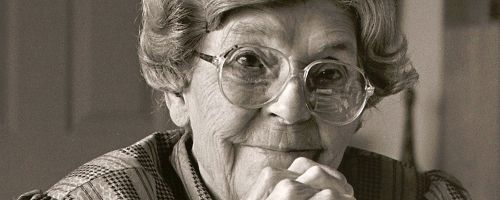 Ellis Peters was the pen name of English novelist Edith Pargeter (1913-1995). During her literary career, she wrote mysteries, historical fiction, non-fiction and translated Czech classics. Edith wrote under several different pseudonyms (including John Redfern, Joylon Carr and Peter Benedict), but it was as Ellis Peters that she would gain the most fame, writing the Cadfael Chronicles and the Inspector Felse series using that nom de plume.
Pargeter's first two novels would be published in 1936, which were Hortensius, Friend of Nero and Iron-Bound. She would first use the Ellis Peters pen name in 1951 when she began the Inspector George Felse series with Fallen into the Pit. Below is a list of Edith Pargeter's books in order of when they were originally published (and in chronological order):
Publication Order of Inspector Felse Books
Publication Order of Heaven Tree Books
Publication Order of Brothers Of Gwynedd Books
Publication Order of Brother Cadfael Books
Publication Order of Standalone Novels
Publication Order of Short Story Collections
Publication Order of Non-Fiction Books
Notes: The Heaven Tree and Brothers of Gwynedd series were written under her real name of Edith Pargeter. The majority of her standalone novels were written under the name of Edith Pargeter, with the exception of Holiday with Violence, Death Mask, Never Pick Up Hitch-Hikers!, Day Star (Peter Benedict), Murder in the Dispensary (Joylon Carr), Death Comes By Post (Joylon Carr) and Masters of the Parachute Mail (Joylon Carr). The short story collections The Assize of the Dying and The Lily Hand were written under the name Edith Pargeter. The non-fiction books The Coast of Bohemia, Shropshire and Shrongholds & Sanctuaries were written under the name of Edith Pargeter (the latter of which were co-authored by Roy Morgan). The Will and a Deed was also titled Where There's a Will.
If You Like Ellis Peters Books, You'll Love…
Order of Books » Authors » Order of Ellis Peters Books