Order of Band Of Four Books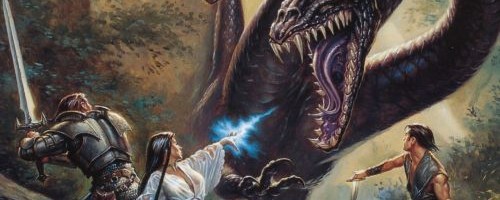 The Band of Four is a series of heroic fantasy novels by Canadian author Ed Greenwood. The "Band of Four" consists of a strong warrior named Hawkril, a crafty thief named Craer, a wise healer named Sarasper and a sorceress named Lady Embra Silvertree. The series is set on a Kingless Land called Aglirta. The land was once peaceful, but it has fallen upon bad times, with feuding baronies constantly at war.
Ed Greenwood began his Band of Four series in 2000 with his novel The Kingless Land. The series lasted five novels, ending in 2004 with the novel The Silent House. Below is a list of Ed Greenwood's Band of Four books in order of when they were originally published (which is the same as their chronological order):
Publication Order of Band of Four Books
| | | |
| --- | --- | --- |
| The Kingless Land | (2000) | |
| The Vacant Throne | (2001) | |
| A Dragon's Ascension | (2002) | |
| The Dragon's Doom | (2003) | |
| The Silent House: A Chronicle of Aglirta | (2004) | |
If You Like Band Of Four Books, You'll Love…
Band of Four Synopsis: In The Kingless Land by Ed Greenwood (book 1 of the Band of Four series), Aglirta is a land without kings. It was once a prosperous and peaceful land, but now it's fallen into ruin, with wars on a constant basis. If the Dwaerindim stones can be found, the Sleeping King may awaken and bring peace to Aglirta. Lady Embra Silvertree is a sorceress who is only interested in world domination. Her father, the baron, imprisoned her in order to use her as a battery to help guard his castle. When a pair of good natured rogues try to steal one of her jewel-covered gowns, they are quickly enlisted as allies to help her escape and, with the aid of a shape-shifting cleric, to seek out the Dwaerindim.
Shop Worldwide: Amazon.com | Amazon.co.uk | Amazon.ca
Order of Books » Characters »
One Response to "Order of Band Of Four Books"