Order of Bartimaeus Books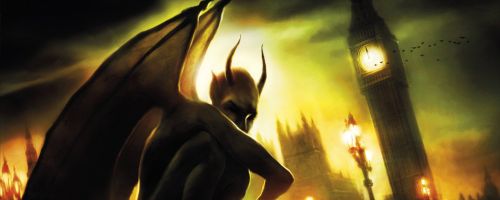 The Bartimaeus series is a series of children's fantasy/alternate history novels by British author Jonathan Stroud. The series follows the career of a young magician named Nathaniel, who has summoned the djinni Bartimaeus, who he can control (to a point). The series is set in an alternate history where London is a dominant magical oligarchy.
Jonathan Stroud began his Bartimaeus as a trilogy, beginning with The Amulet of Samarkand in 2003. The trilogy included The Golem's Eye in 2004 and ended with Ptolemy's Gate in 2005. He then added the prequel, The Ring of Solomon, to the series in 2010. Below is a list of Jonathan Stroud's Bartimaeus books in order of when they were originally released (as well as in chronological order):
Publication Order of Bartimaeus Books
Chronological Order of Bartimaeus Books
Publication Order of Bartimaeus Graphic Novels
If You Like Bartimaeus Books, You'll Love…
Bartimaeus Synopses: The Amulet of Samarkand by Jonathan Stroud is the first book in the Bartimaeus series. Nathaniel is a magician's apprentice, just beginning to learn the arts of magic. But when a devious hot shot wizard named Simon Lovelace ruthlessly humiliates Nathaniel in front of his elders, Nathaniel decides to ramp up his education a few notches and show Lovelace who's boss. With revenge on his mind, he summons the powerful djinni, Bartimaeus. But summoning Bartimaeus and controlling him are two different things entirely, and when Nathaniel sends the djinni out to steal Lovelace's greatest treasure, the Amulet of Samarkand, he finds himself caught up in a whirlwind of magical espionage, murder, and rebellion.
In book two of the series, The Golem's Eye, Nathaniel is working his way up the ranks of the government, when crisis hits. A seemingly invulnerable clay golem is making random attacks on London. Nathaniel and Bartimaeus must travel to Prague to learn the source of the golem's power.
Order of Books » Characters » Order of Bartimaeus Books