Order of Chloe Ellefson Books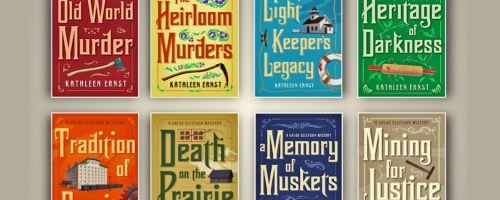 Chloe Ellefson is the protagonist in a series of cozy mystery novels by American novelist Kathleen Ernst. Chloe works as a curator at Old World Wisconsin, an outdoor living history museum where the author herself worked for 12 years. Her boyfriend, Roelke McKenna is a police officer in a nearby village. Chloe ends up as a reluctant sleuth, solving murder mysteries around the museum.
Kathleen Ernst began her Chloe Ellefson series in 2010 with the novel Old World Murder. The series is currently ongoing. Below is a list of Kathleen Ernst's Chloe Ellefson books in order of when they were originally released (which is the same as their chronological order):
Publication Order of Chloe Ellefson Books
| | | |
| --- | --- | --- |
| Old World Murder | (2010) | |
| The Heirloom Murders | (2011) | |
| The Light Keeper's Legacy | (2012) | |
| Heritage of Darkness | (2013) | |
| Tradition of Deceit | (2014) | |
| Death on the Prairie | (2015) | |
| A Memory of Muskets | (2016) | |
| Mining for Justice | (2017) | |
| The Lacemaker's Secret | (2018) | |
| Fiddling with Fate | (2019) | |
| The Weaver's Revenge | (2021) | |
If You Like Chloe Ellefson Books, You'll Love…
Chloe Ellefson Synopsis: Old World Murder is the first Chloe Ellefson mystery novel by Kathleen Ernst. Trying to leave painful memories behind her, Chloe Ellefson is starting fresh. She's the new collections curator at Old World Wisconsin, an outdoor ethnic museum showcasing 1870s settlement life. On her first day, Chloe meets with an elderly woman who begs her to find a priceless eighteenth-century Norwegian ale bowl that had been donated to the museum years ago. But before Chloe can find the heirloom and return it to her, the woman dies in a suspicious car accident. Digging up the history and whereabouts of the rare artifact quickly turns dangerous. Chloe discovers that someone is desperately trying to cover up all traces of the bowl's existence – by any means necessary. Assisting Chloe is police officer Roelke McKenna, whose own haunting past compels him to protect her. To catch the covetous killer, Chloe must solve a decades-old puzzle… before she becomes a part of history herself.
Order of Books » Characters » Order of Chloe Ellefson Books