Order of David Rivers Books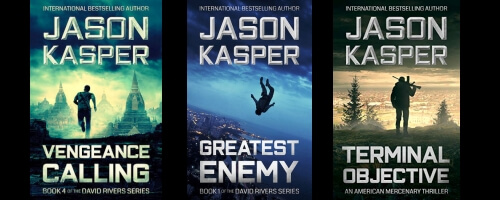 David Rivers is a series of books by Jason Kasper that is also known as the American Mercenary series. The series follows the lead character, David Rivers, who is an Army Ranger and combat veteran of the wars in Afghanistan and Iraq.
The book series is written by Jason Kasper who is a former Army Ranger himself. He started as a Ranger private and then later ended his career as a Green Beret captain. He is a West Point graduate and later served in the Afghanistan and Iraq wars. His career inspires his fiction as does his hobbies of skydiving and BASE jumping.
Publication Order of American Mercenary (David Rivers) Books
| | | |
| --- | --- | --- |
| Greatest Enemy | (2016) | |
| Offer of Revenge | (2017) | |
| Dark Redemption | (2018) | |
| Vengeance Calling | (2018) | |
| The Ranger Objective | (2018) | |
| The Suicide Cartel | (2019) | |
| Terminal Objective | (2020) | |
Publication Order of Shadow Strike (David Rivers) Books
| | | |
| --- | --- | --- |
| The Night Stalker Rescue | (2020) | |
| The Enemies of My Country | (2021) | |
| Last Target Standing | (2021) | |
| Covert Kill | (2021) | |
| Narco Assassins | (2022) | |
| Beast Three Six | (2023) | |
If You Like David Rivers Books, You'll Love…
The first book in the series of American Mercenary/David Rivers book is called Greatest Enemy. The book introduces us to Rivers, a veteran of wars in Afghanistan and Iraq, when his world is turned upside down as he is discharged from the military just as he is about to graduate west Point. David is left angry and confused why this happened and starts to spiral, heading towards rock bottom. This is when he is approached by three mysterious men, three men that know about David's dark past where he murdered someone, and they want him to do it again.
Offer of Revenge is the second book in the series and features David out for revenge against his greatest enemy. In order to get to that enemy, he'll need to join a secret organization that is nearly as guilty as his enemy. David is trying to go undercover in this organization, but there is someone within the organization that knows his true purpose. Whoever it is, David starts to realize that he might not be the only survivor from when the organization destroyed the only family he'd ever known.
Order of Books » Characters » Order of David Rivers Books