Order of Dev Conrad Books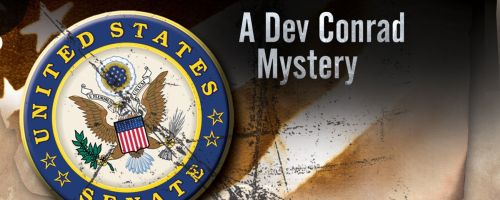 Dev Conrad is the protagnist in a series of political thriller/mystery novels by American author Ed Gorman. He works as a political consultant.
Ed Gorman began his Dev Conrad series in 2008 with the novel Sleeping Dogs. The series lasted five novels until Elimination in 2015. Below is a list of Ed Gorman's Dev Conrad books in order of when they were originally published (which is the same as their chronological order):
Publication Order of Dev Conrad Books
If You Like Dev Conrad Books, You'll Love…
Dev Conrad Synopsis: Sleeping Dogs by Ed Gorman is book 1 in the Dev Conrad series. As a seasoned political consultant, Dev Conrad is taking on the re-election campaign of Illinois Senator Warren Nichols with some uneasiness. The senator's best friend and adviser has just committed suicide. And though Conrad agrees with Nichols's political positions, he's leery of the senator's rep for sleeping around. When a major televised debate goes badly for the senator, Dev must look into the backgrounds of the senator's staff, which includes several people who have tangled and troubled relationships with their boss. Dev's investigation takes him through the highs and lows of the political system, the well-meaning people on both sides of the aisle, and the increasingly dark forces that work to destroy reputations and lives. It also leads him into the frightening murder of a sleazy political op who knows something about Senator Nichols that could completely ruin his career.
Order of Books » Characters » Order of Dev Conrad Books