Order of Gunman's Reputation Books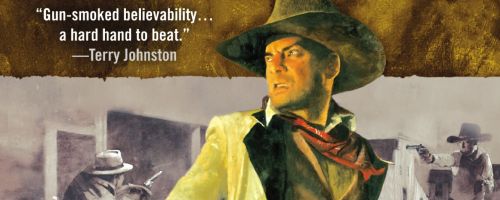 Gunman's Reputation is a series of western novels by American author Ralph Cotton. In a spin-off of the Ranger Sam Burrack series, this series follows Fast Lawrence Shaw (the fastest gun alive) and U.S. Marshal Crayton Dawson.
Ralph Cotton began his Gunman's Reputation series in 2004 with the novel Gunman's Song. The series lasted 11 novels, concluding in 2010 with City of Bad Men. Below is a list of Ralph Cotton's Gunman's Reputation books in order of when they were first released (which is the same as their chronological order):
Publication Order of Gunfighter's Reputation Books
| | | |
| --- | --- | --- |
| Gunman's Song | (2004) | |
| Between Hell and Texas | (2004) | |
| The Law in Somos Santos | (2005) | |
| Bad Day at Willow Creek | (2006) | |
| Fast Guns Out of Texas | (2007) | |
| Ride to Hell's Gate | (2008) | |
| Gunmen of the Desert Sands | (2008) | |
| Crossing Fire River | (2009) | |
| Escape From Fire River | (2009) | |
| Gun Country | (2010) | |
| City of Bad Men | (2010) | |
If You Like Gunman's Reputation Books, You'll Love…
Gunman's Reputation Synopses: In Gunman's Song by Ralph Cotton (book 1 of the series), Larry Shaw once enjoyed being the quickest gun around, but now he prefers to tell his stories rather than living them. But just because he doesn't want trouble, it doesn't mean trouble doesn't want him. He's got gunmen after him, and gamblers wagering $5,000 on the one who will finally best him.
In Between Hell and Texas by Ralph Cotton (book 2 of the series), Cray Dawson gets his reputation boosted after taking out the Talbert Gang. But he himself doesn't think of himself as a shootist. He simply wants to go back to Somos Santos, Texas and live a normal life. But now Somos Santos has changed. There's a new sheriff named Lematte, and the only law he keeps is his own. Along with a gang of outlaws working as deputies, Lematte is ruling the town with an iron fist… until Cray decides to do something about it.
Order of Books » Characters » Order of Gunman's Reputation Books