Order of Jesse McDermitt Books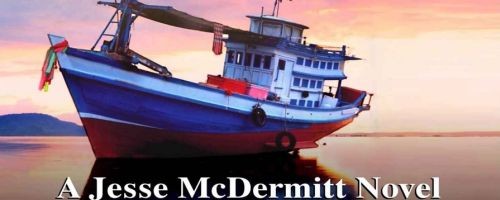 Jesse McDermitt is the protagonist in a series of action-adventure novels by American novelist Wayne Stinnett. Jesse McDermitt is a former Marine who now lives alone and looks forward to living the simple life in the Florida Keys – one that involves just relaxing, fishing and diving. But when events occur that disrupt his new lifestyle, McDermitt must spring back into action.
Wayne Stinnett began his Jesse McDermitt series in 2010 with the novel Fallen Palm. It is preceded by the prequel novel Fallen Out. The series is currently ongoing. Below is a list of Wayne Stinnett's Jesse McDermitt books in order of when they were originally published (as well as in chronological order):
Publication Order of Jesse McDermitt Caribbean Adventure Books
Fallen Palm
(2013)
Fallen Hunter
(2013)
Fallen Pride
(2014)
Fallen Out
(2014)
Fallen Mangrove
(2014)
Fallen King
(2015)
Fallen Honor
(2015)
Fallen Tide
(2015)
Fallen Angel
(2016)
Fallen Hero
(2016)
Rising Storm
(2017)
Rising Fury
(2017)
Rising Force
(2018)
Rising Charity
(2019)
Rising Water
(2019)
Rising Spirit
(2019)
Rising Thunder
(2020)
Rising Warrior
(2020)
Rising Moon
(2020)
Rising Tide
(2021)
Steady As She Goes
(2021)
All Ahead Full
(2021)
Man Overboard
(2022)
Cast Off
(2022)
Chronologically, read Fallen Out first.
If You Like Jesse McDermitt Books, You'll Love…
Jesse McDermitt Synopsis: Fallen Out by Wayne Stinnett is the first book in the Jesse McDermitt series. Retiring from the Marines at age 37, Jesse McDermitt doesn't know what he'll do for the rest of his life. He only knows he doesn't want to be anywhere cold. His job skills include killing people from up to a mile away and he knows there aren't many job opportunities in the civilian world for that. However, he also knows his way around boats and has an old friend living free and easy in the Florida Keys. Being an experienced diver and angler, he immediately heads south toward Key West and the end of the road. With a single comment, a waitress in a waterfront restaurant in north Key Largo shakes loose an old dream and Jesse runs with it. With the help of some of his friends, he buys just the right boat to live on and soon starts a part-time charter business. Danger lurks in the sleepy little town of Marathon, in the middle of the Florida Keys, as well as in the swamps of the Everglades. But danger doesn't expect to run into a man like Jesse. A man who will not only respond swiftly in facing it, but with a vengeance unexpected.
Order of Books » Characters » Order of Jesse McDermitt Books