Order of Keeper Of The Lost Cities Books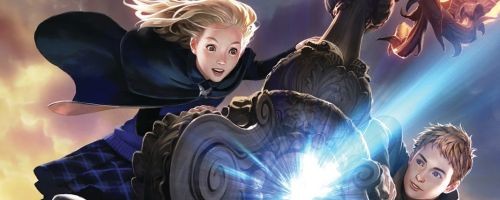 Keeper of the Lost Cities is a series of children's fantasy novels by American novelist Shannon Messenger. In this middle grade fantasy series, 12-year-old Sophie is a Telepath who must figure out why she is the key to a brand new world called the Lost Cities before someone else discovers the answer before her.
Shannon Messenger began her Keeper of the Lost Cities series in 2012 with the novel Keeper of the Lost Cities. The series is currently ongoing. Below is a list of Shannon Messenger's Keeper of the Lost Cities books in order of when they were originally published (which is the same as their chronological order):
Publication Order of Keeper of the Lost Cities Books
| | | |
| --- | --- | --- |
| Keeper of the Lost Cities | (2012) | |
| Exile | (2013) | |
| Everblaze | (2014) | |
| Neverseen | (2015) | |
| Lodestar | (2016) | |
| Nightfall | (2017) | |
| Flashback | (2018) | |
| Legacy | (2019) | |
| Unlocked | (2020) | |
| Stellarlune | (2022) | |
If You Like Keeper Of The Lost Cities Books, You'll Love…
Keeper Of The Lost Cities Synopsis: Keeper of the Lost Cities by Shannon Messenger is the first book in the series of the same name. Twelve-year-old Sophie has never quite fit into her life. She's skipped multiple grades and doesn't really connect with the older kids at school, but she doesn't gel with her own family, either. The reason? Sophie's a Telepath who can read minds. This is her secret – or so she thinks… But the day Sophie meets Fitz, a mysterious (and adorable) boy, she learns she's not alone. He's a Telepath too, and it turns out the reason she has never felt at home is that, well… she isn't. Fitz opens Sophie's eyes to a shocking truth, and she is forced to leave behind her family for a new life in a place that is vastly different from what she has ever known. But Sophie still has secrets, and they're buried deep in her memory for good reason: The answers are dangerous and in high-demand. What is her true identity, and why was she hidden among humans? The truth could mean life or death – and the clock is ticking.
Order of Books » Characters » Order of Keeper Of The Lost Cities Books