Order of Kencyrath Books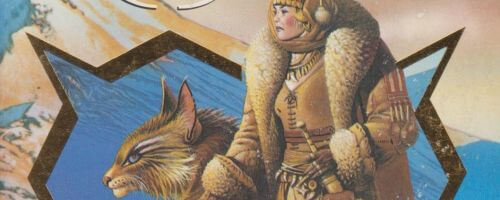 Kencyrath is a series of science fiction and fantasy novels by American novelist P.C. Hodgell. The protagonist of this series is named Jame, a young Kencyr woman with an unknown past who attracts disaster and destruction. She's a catlike acrobat with, she soon discovers, extraordinary ability in unarmed combat and dances that seem to have a hypnotic, magical effect on the watcher.
P.C. Hodgell began her Kencyrath series in 1982 with the novel God Stalk. The series is currently ongoing. Below is a list of P.C. Hodgell's Kencyrath books in order of when they were originally released (which is the same as their chronological order):
Publication Order of Kencyrath Books
| | | |
| --- | --- | --- |
| God Stalk | (1982) | |
| Dark of the Moon | (1985) | |
| Seeker's Mask | (1994) | |
| Blood and Ivory | (1994) | |
| To Ride a Rathorn | (2006) | |
| Bound in Blood | (2010) | |
| Honor's Paradox | (2011) | |
| The Sea of Time | (2014) | |
| The Gates of Tagmeth | (2017) | |
| By Demons Possessed | (2019) | |
| Deathless Gods | (2022) | |
If You Like Kencyrath Books, You'll Love…
Kencyrath Synopses: Dark of the Moon is the second Kencyrath novel by P.C. Hodgell. Jame and her friend Marc journey over the mountains to find Jame's twin brother Tori, but they must face great perils, including planet-threatening enemies.
Seeker's Mask is the third book in P.C. Hodgell's Kencyrath series. Jame has found and been reunited with her twin brother Tori. Now all she has to do is find a place for herself among the Kencyrs that are following her brother. This is not quite as easy as it sounds. For, if you remember, Jame has not grown up in the normal Kencyr lifestyle. When she is placed in the Women's Halls and is expected to change and become a normal quiet Kencyr lady, it is the Women's Halls that undergo the changes. For when you have Shadow Guild Assassins, ghosts, strange beings, and other characters from your past after you, it is rather difficult not to want a weapon, instead of a sewing needle, in your hand. Soon Jame and Jorin, her blind ounce, are on the run again, trying to stay one step ahead of the danger.
Order of Books » Characters » Order of Kencyrath Books