Order of Kingdom Of Wrenly Books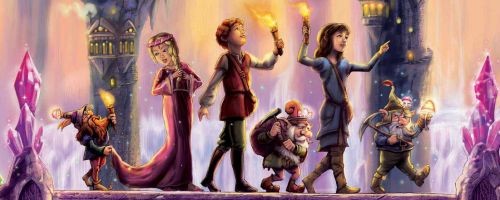 The Kingdom of Wrenly is a series of children's fantasy/adventure chapter books by Jordan Quinn with illustrations by Robert McPhillips. The Kingdom of Wrenly is home to Lucas, the eight-year-old prince, and Clara, the daughter of the queen's seamstress. Lucas lives in the place with King Caleb and Queen Tasha – or has he calls them, Mom and Dad. He loves math and going on adventures with his horse, Ivan, and best friend Clara. Clara has been everywhere in the kingdom while helping her dad deliver bread. This means she can help guide Lucas around the kingdom when they go out on adventures. She enjoys collecting polished shells, riding her horse, Scallop, and adventures (of course!).
Jordan Quinn began her Kingdom of Wrenly series in 2014 with the first book of the series, The Lost Stone. The books are great for beginning readers, with illustrations on nearly every page. The series is currently ongoing. Below is a list of Jordan Quinn's Kingdom of Wrenly books in order of when they were originally published (which is the same as their chronological order):
Publication Order of Kingdom Of Wrenly Books
| | | |
| --- | --- | --- |
| The Lost Stone | (2014) | |
| The Scarlet Dragon | (2014) | |
| Sea Monster! | (2014) | |
| The Witch's Curse | (2014) | |
| Adventures in Flatfrost | (2014) | |
| Beneath the Stone Forest | (2014) | |
| Let the Games Begin! | (2015) | |
| The Secret World of Mermaids | (2015) | |
| The Bard and the Beast | (2015) | |
| The Pegasus Quest | (2016) | |
| The False Fairy | (2016) | |
| The Sorcerer's Shadow | (2017) | |
| The Thirteenth Knight | (2018) | |
If You Like Kingdom Of Wrenly Books, You'll Love…
Kingdom of Wrenly Synopsis: In The Lost Stone by Jordan Quinn (book 1 of the series), Lucas and Clarka are searching for Lucas's mother, Queen Tasha's missing emerald. Together, they'll see all of the major attractions of Wrenly, including the islands of Primlox (land of fairies), Burth (land of trolls), Crestwood (land of dragons) and Hobsgrove (land of wizards), as well as Mermaid's Cove. King Caleb will reward the one who finds the emerald, and Lucas and Clara are determined to be the ones to find it!
Order of Books » Characters » Order of Kingdom Of Wrenly Books