Order of Lew Griffin Books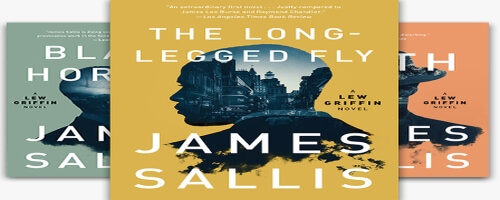 Lew Griffin is the center character in a series of novels by author James Sallis. Lew Griffin is a black private detective in New Orleans in this series of mystery thrillers.
Lew Griffin has been called one of the best literary characters as James Sallis writes the character and these crime novels more like literature which leads to some rich characterization. The books are written in the classic noir style made famous by Raymond Chandler, Sallis manages to update it to a modern era while still keeping the trappings that make the genre interesting. The local color of New Orleans sticks out as well and really adds a lot to the series.
Publication Order of Lew Griffin Books
| | | |
| --- | --- | --- |
| The Long-Legged Fly | (1992) | |
| Moth | (1993) | |
| Black Hornet | (1994) | |
| Eye of the Cricket | (1997) | |
| Bluebottle | (1999) | |
| Ghost of a Flea | (2001) | |
If You Like Lew Griffin Books, You'll Love…
The Long-Legged Fly is James Sallis' first book in the Lew Griffin series. This book introduces us to Lew Griffin working as a private detective in New Orleans. He takes on a seemingly hopeless missing person case that takes him through the underbelly of the French Quarter. Every lead that he gets leads to violence and he's getting restless. Making things worse, his own life is starting to resemble the people he's trying to find and that's not a good thing.
The second book in the series is called Moth and sees the aging Lew Griffin leaving his private investigator work behind to try the safety of teaching. Then his one-time love and highlight of his dark past, LaVerne, dies. She left behind a daughter named Alouette who is falling in with the wrong crowd of users and abusers. Griffin changed jobs to stay away from that world, but his obligation to his old friend brings him back into that world to try and – get Alouette out of it before it's too late for her.
Order of Books » Characters »