Order of Revanche Cycle Books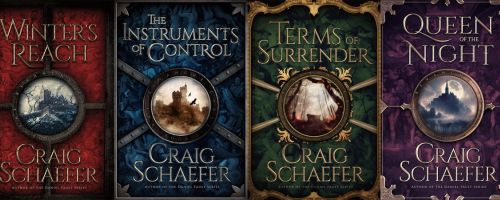 The Revanche Cycle is a series of fantasy novels by American novelist Craig Schaefer. Pope Benignus is on his deathbed and an empire looks towards the one who will fill his shoes, a madman puts his apocalyptic plan for revenge into action. His web of conspiracy will snare an unlikely gathering of souls, from a barmaid and her lover, to a couple of sub-par bounty hunters, to the pope's strong-willed daughter, their roads crossing in a broken, war-ravaged land.
Craig Schaefer began his Revanche Cycle series in 2014 with the novel Winter's Reach. The series lasted four novels, concluding with 2016's Queen of the Night. Below is a list of Craig Schaefer's Revanche Cycle books in order of when they were originally published (which is the same as their chronological order):
Publication Order of Revanche Cycle Books
| | | |
| --- | --- | --- |
| Winter's Reach | (2014) | |
| The Instruments of Control | (2015) | |
| Terms of Surrender | (2015) | |
| Queen of the Night | (2016) | |
If You Like Revanche Cycle Books, You'll Love…
Revanche Cycle Synopsis: The Instruments of Control is the second book in the Revanche Cycle series by author Craig Schaefer. Livia Serafini must die. The Church considers her heretic, tried in absentia and sentenced to burn. Her brother Carlo looks at her as a threat to his corrupt rule and a symbol of resistance. To her new "allies" in the east, she is a pawn to be played and sacrificed as they see fit. They don't hear the whispers that follow her in the streets: whispers of hope, and the name of a long-dead saint. When Livia rises up to fight, she will not rise alone. Across the ocean, Felix struggles for control of his family's fate against the crime lord Basilio Grimaldi. Basilio is wealthy, ruthless, and the master of a hundred killers. All Felix has are his wits and his courage. He will need much more than that. To break free, and to save the lives of everyone he loves, he'll have to face the darkness that followed him home from Winter's Reach. And as the Owl's horrific vengeance unfolds, her coven teeters on the brink of civil war. Everything is in place for a world to fall once and for all.
Order of Books » Characters » Order of Revanche Cycle Books