Order of Riyria Books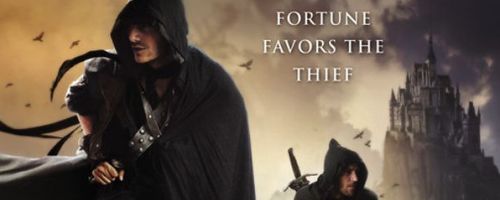 The Riyria universe consists of two series of high fantasy novels by American novelist Michael J. Sullivan. The first series, the Riyria Revelations is set in a time where kings ruled, knights served them and where much of the wilderness was uncharted. Elves are former slaves who are still shunned by the rest of society. Dwarves are stuck in the ghettos, and have very valuable skills, but are kept away from the humans. There are lots of swordfights, castle sieges, great mythical beasts, battles at sea, magic, intrigue and romance. The series follows the adventures of Hadrian Blackwater, an ex-soldier/mercentary, and a thief named Royce. The Riyria Chronicles is a prequel series that reveals how they met and how Riyria was formed.
Michael J. Sullivan began his Riyria Revelations series in 2008 with the novel The Crown Conspiracy, which he originally self-published. The series lasted six novels and concluded with the 2012 novel Percepliquis. He followed it up with a prequel series, the Riyria Chronicles. That series began in 2011 with the short story The Viscount and the Witch, which takes place after the first novel in the series, The Crown Tower (published in 2013). The series is currently ongoing. You can read either series first, although the author suggests you read the series in publication order. Below is a list of Michael J. Sullivan's Riyria books in order of when they were originally published (as well as in chronological order):
Publication Order of Riyria Revelations Books
| | | |
| --- | --- | --- |
| The Crown Conspiracy | (2008) | |
| Avempartha | (2009) | |
| Nyphron Rising | (2009) | |
| The Emerald Storm | (2010) | |
| Wintertide | (2010) | |
| Theft of Swords | (2011) | |
| Percepliquis | (2012) | |
Publication Order of Riyria Chronicles Books
The Viscount and the Witch
(2011)
The Crown Tower
(2013)
The Rose and the Thorn
(2013)
The Jester
(2014)
The Death of Dulgath
(2015)
The Disappearance of Winter's Daughter
(2017)

Chronological Order of Riyria Chronicles Books

The Crown Tower takes place prior to The Viscount and the Witch.
Publication Order of Riyria Graphic Novels
If You Like Riyria Books, You'll Love…
Shop Worldwide: Amazon.com | Amazon.co.uk | Amazon.ca
Order of Books » Characters »