Order of Shadow Ops Books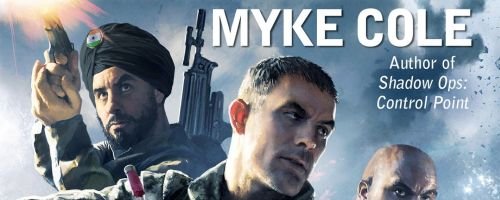 Shadow Ops is a series of military action/fantasy novels by American novelist Myke Cole. The Supernatural Operations Corps exist to help keep those who possess superpowers in check.
Myke Cole began his Shadow Ops series in 2012 with the novel Control Point. Below is a list of Myke Cole's Shadow Ops books in order of when they were first released:
Publication Order of Shadow Ops Books
Publication Order of Shadow Ops: Reawakening Trilogy Books
If You Like Shadow Ops Books, You'll Love…
Shadow Ops Synopses: Control Point by Myke Cole is the first book in the Shadow Ops series. Lieutenant Oscar Britton of the Supernatural Operations Corps has been trained to hunt down and take out people possessing magical powers. But when he starts manifesting powers of his own, the SOC revokes Oscar's government agent status to declare him public enemy number one.
Fortress Frontier is the second book in the Shadow Ops series by Myke Cole. Colonel Alan Bookbinder is an army bureaucrat whose worst war wound is a paper-cut. But after he develops magical powers, he is torn from everything he knows and thrown onto the frontlines. Drafted into the Supernatural Operations Corps in a new and dangerous world, Bookbinder finds himself in command of Forward Operating Base Frontier – cut off, surrounded by monsters, and on the brink of being overrun. Now, he must find the will to lead the people of FOB Frontier out of hell, even if the one hope of salvation lies in teaming up with the man whose own magical powers put the base in such grave danger in the first place – Oscar Britton, public enemy number one…
Order of Books » Characters » Order of Shadow Ops Books