Order of Powder Mage Trilogy Books
Array
(
    [] => 1
)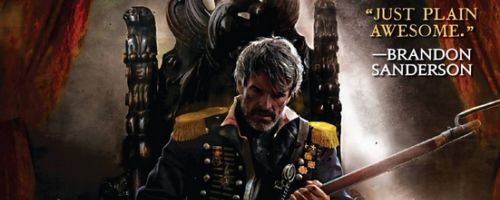 The Powder Mage Trilogy is a series of epic fantasy novels by American novelist Brian McClellan. During a bloody coup against Adro's monarchy, Field Marshal Tamas hears the same phrase from each and every member of the Royal Cabal – "You can't break Kresimir's Promise." Adamat, a former police inspector who is now a private investigator, is asked by Tamas to help figure out the meaning of the phrase. Meanwhile, Tamas is busy with purging the country's nobility and struggling to maintain peace during the inevitable civil war. Taniel, Tamas' son and a talented powder mage who is able to use gunpowder to give himself supernatural abilities, is given the task to hunt down an exceptionally powerful member of the Royal Cabal who managed to get away during the coup. It will soon become clear that overthrowing the monarchy was only the start.
Brian McClellan began the Powder Mage Trilogy in 2013. The series consists of three novels, including Promise of Blood, The Crimson Campaign and The Autumn Republic. In addition to that, there are several short stories and novellas. Below is a list of Brian McClellan's Powder Mage Trilogy books in order of when they were first published (as well as in chronological order):
Publication Order of Powder Mage Trilogy Books
Chronological Order of Powder Mage Trilogy Books
If You Like Powder Mage Trilogy Books, You'll Love…
Powder Mage Trilogy Synopses: Servant of the Crown by Brian McClelland is a prequel novella to the Powder Mage series. Captain Tamas is an ambitious young officer in the Adran army. It is rare for a commoner such as him to hold rank. When he challenges the son of a duke over an insult, the subsequent duel lands him in hot water with the nobility and the royal cabal of Privileged sorcerers. Tamas is soon drawn into a conflict that goes all the way to the top, and his only ally is the most unlikely of people; a young noblewoman named Erika, who needs Tamas to teach her how to be an effective powder mage.
In the next and third prequel novella, Murder at the Kinnen Hotel by Brian McClellan, Special Detective Constable Adamat may be the most capable young investigator in all of Adopest. He's sharp, thoughtful, and his particular sorcery gives him a flawless memory. A transfer to the First Precinct seems like the perfect opportunity to show some of what he can do and progress further up the ranks. But things work differently in the First Precinct. The murder of a businessman's mistress quickly pulls Adamat into an unexpected world of conspiracy and politics where he's forced to use all his wits to stay one step ahead of unseen enemies and keep his friends — and himself — from certain death by way of the guillotine.
Order of Books » Characters » Order of Powder Mage Trilogy Books