Order of Star Trek Books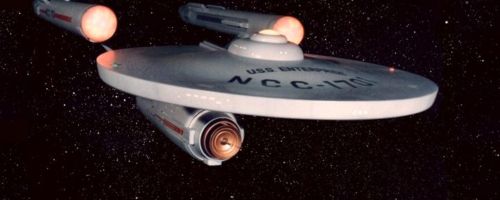 Star Trek is science fiction franchise covering several different mediums created by American screenwriter and producer Gene Roddenberry. Star Trek began in 1966 with Star Trek: The Original Series (a retronym), followed by several movies and television series – most notably Star Trek: The Next Generation, Star Trek: Deep Space Nine and Star Trek: Voyager. The series is well known for its intricate mythology, including spawning its very own legitimate language, Klingon. The Star Trek novels were mostly written to accompany the various television series and movies, thereby enriching the mythos even more.
The first Star Trek novels were direct novelizations of the original Star Trek episodes by James Blish, running from 1967-1978. Along with the various Star Trek novel series there have also been dozens of authors who have contributed to the franchise, including (but not limited to) Roddenberry himself, G. Harry Stine (as Lee Correy), A.C. Crispin, Diane Duane, J.M. Dillard, Vonda N. McIntyre, Michael Jan Friedman, Peter David, Diane Carey, David R. George III, Greg Cox and many others.
Below we have listed the various series not directly linked to any of the major Star Trek novel series (read more about those by clicking the various links on this page) and any crossover series that spans multiple Star Trek series, sorted by year of publication:
Publication Order of Star Trek: TOS Adaptations Books
Publication Order of Star Trek Adventures Books
Publication Order of Star Trek: The Animated Books
Publication Order of Star Trek Wanderer Books
Publication Order of Star Trek: Odyssey Books
Publication Order of Star Trek: The Mirror Universe Trilogy Books
Publication Order of Star Trek: Totality Books
Publication Order of Star Trek: New Frontier Books
Publication Order of Star Trek: Starfleet Corps Of Engineers Books
Publication Order of Star Trek: Enterprise: Romulan War Books
Publication Order of Star Trek: Enterprise: Rise Of The Federation Books
Publication Order of Star Trek: Enterprise Episode Novelizations Books
Publication Order of Star Trek: Enterprise Books
Publication Order of Star Trek: Stargazer Books
Publication Order of Star Trek: The Lost Era Books
Publication Order of Star Trek: Vanguard Books
Publication Order of Star Trek: Invasion Books
Publication Order of Star Trek: Day Of Honor Books
Publication Order of Star Trek: Typhon Pact Books
Publication Order of Star Trek: The Fall Books
Publication Order of Star Trek: Prey Books
Publication Order of Star Trek: Titan Books
Publication Order of Star Trek: Section 31 Books
Publication Order of Star Trek: Academy Books
Publication Order of Star Trek: Excelsior Books
Publication Order of Star Trek: Klingon Empire Books
Publication Order of Star Trek: Myriad Universes Books
Publication Order of Star Trek: Seekers Books
Publication Order of Star Trek: Discovery Books
Publication Order of Star Trek: Picard: Countdown Graphic Novels
Publication Order of Star Trek: Picard Books
If You Like Star Trek Books, You'll Love…
Order of Books » Characters » Order of Star Trek Books
3 Responses to "Order of Star Trek Books"