Order of Texas Rangers Books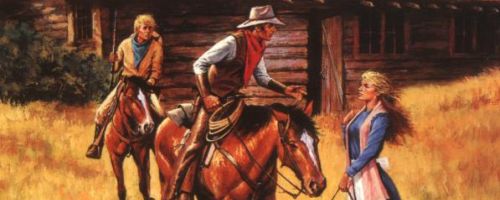 Texas Rangers is a series of western novels by American author Elmer Kelton. The series follows Rusty Shannon, who joins the Texas Rangers following a tragedy, and Andy Pickard, a man rescued by Rusty from a Comache war party.
Elmer Kelton began his Texas Rangers series in 1999 with The Buckskin Line. The series lasted ten novels, concluding with 2010's Texas Standoff (Kelton's final novel). Below is a list of Elmer Kelton's Texas Rangers books in order of when they were first published (which is also their chronological order):
Publication Order of Texas Rangers Books
| | | |
| --- | --- | --- |
| The Buckskin Line | (1999) | |
| Badger Boy | (2001) | |
| The Way of the Coyote | (2001) | |
| Ranger's Trail | (2002) | |
| Other Men's Horses | (2002) | |
| Lone Star Rising | (2003) | |
| Texas Vendetta | (2004) | |
| Jericho's Road | (2004) | |
| Hard Trail To Follow | (2008) | |
| Texas Standoff | (2010) | |
If You Like Texas Rangers Books, You'll Love…
Texas Rangers Synopses: The Buckskin Line is the first novel of Elmer Kelton's award-winning Texas Rangers saga. The novel follows a group of misfits (who would come to be known as the Texas Rangers) trying to defend the edges of settlement from Natives and outlaws. Rusty was rescued by Mike Shannon from a Comache war party and considered Mike to be his father. Now Mike Shannon has been killed and Rusty wants revenge, but also he is trying to maintain the law in Texas and fight for the woman he loves. And soon, he'll be heading for a battle with the Comache who killed his family more than two decades ago.
Texas Standoff is the final book in Kelton's Texas Rangers series. Ranger Andy Pickard is now married and headed to Texas to look into a series of cattle thefts and murders. Along with his new partner, Andy learns that the two major cattlemen in the area are blaming eachother for the crimes. However, after meeting with them, Andy believes neither is the perpetrator. New on the scene is a group of masked men called the "Regulators," vigilantes whose identities are so secret that those who reveal them are taken care of along with an infamous gunman whose reputation Daggett is more than aware of.
Shop Worldwide: Amazon.com | Amazon.co.uk | Amazon.ca
Order of Books » Characters »