Order of Walt Longmire Books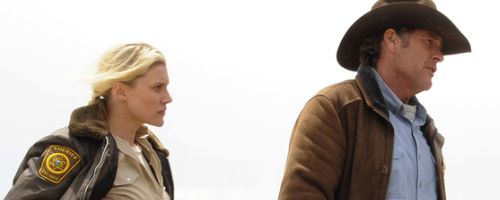 Walt Longmire is a fictional character created by American author Craig Johnson. He was created for Craig Johnson's Walt Longmire novels, but has since moved onto his own TV series on A&E called "Longmire." The series debuted to an amazing 4.1 million viewers, making it the #1 original series premiere of all time on the station.
The Walt Longmire series began with The Cold Dish, which was Craig Johnson's debut as a novelist in 2004. Below is a list of Craig Johnson's Walt Longmire books in order of when they were originally published (and in chronological order):
Publication Order of Walt Longmire Books
| | | |
| --- | --- | --- |
| The Cold Dish | (2004) | |
| Death Without Company | (2006) | |
| Kindness Goes Unpunished | (2007) | |
| Another Man's Moccasins | (2008) | |
| The Dark Horse | (2009) | |
| Junkyard Dogs | (2010) | |
| Hell Is Empty | (2011) | |
| Divorce Horse | (2012) | |
| As the Crow Flies | (2012) | |
| Messenger | (2013) | |
| A Serpent's Tooth | (2013) | |
| Spirit of Steamboat | (2013) | |
| Any Other Name | (2014) | |
| Dry Bones | (2015) | |
| The Highwayman | (2016) | |
| An Obvious Fact | (2016) | |
| The Western Star | (2017) | |
| Depth of Winter | (2018) | |
| Land of Wolves | (2019) | |
| Next to Last Stand | (2020) | |
| Daughter of the Morning Star | (2022) | |
| Hell and Back | (2022) | |
| The Longmire Defense | (2023) | |
Publication Order of Walt Longmire Short Stories/Novellas
If You Like Walt Longmire Books, You'll Love…
Walt Longmire Synopses: The Cold Dish by Craig Johnson is the first book in the Walt Longmire series. Walt Longmire, sheriff of Absaroka County in Wyoming, knows trouble is just beginning once Cody Pritchard has been found dead. Two years earlier, Cody and three accomplices had been given suspended sentences for raping a Northern Cheyenne girl. Is someone looking for vengeance? Longmire faces one of the more volatile and challenging cases in his near quarter-century as sheriff and wants to make sure that revenge, a dish that is best served cold, is left unserved.
Death Without Company by Craig Johnson is the second book in the series. When Mari Baroja is found poisoned in an assisted living home, Sheriff Walt Longmire is brought into an investigation that goes back fifty years into the mysterious woman's dramatic Basque past. Along with his friend Henry Standing Bear, Deputy Victoria Moretti, and newcomer Santiago Saizarbitoria, Sheriff Longmire must connect the past to the present in order to uncover the killer among them.
Kindness Goes Unpunished by Craig Johnson is the third book featuring Walt Longmire. Walt Longmire has been sheriff of Wyoming's Absaroka County for 24 years and has dealt justice with charm and a sense of humor, but when Walt tags along with good friend Henry Standing Bear on a trip to Philadelphia, he's in for a surprise. When a vicious attack on his daughter Cady leaves her near death, Walt discovers that she has found herself in a deadly political cover-up. With Henry, Deputy Victoria Moretti, the entire Moretti clan of Philadelphia police officers, and Dog as backup, Sheriff Longmire sets out to introduce his brand of western justice to the City of Brotherly Love, where no act of kindness goes unpunished.
Book 4 of the Walt Longmire series is Another Man's Moccasins by Craig Johnson. When the remains of a young Vietnamese woman are found near the interstate in Absaroka County, Sherriff Walt Longmire is determined to discover the victim's name and is forced to confront the eerie similarities of this murder to one he investigated as a marine in Vietnam – his first investigation.
If the situation wasn't complicated enough, Virgil White Buffalo, a homeless Crow Indian, is found living in a nearby culvert and in possession of the young woman's purse. There are only two issues with what appears to be a straightforward case. One, Longmire doesn't believe Virgil White Buffalo – a Vietnam vet with a troubled past – is a murderer. And two, the photo found in the woman's purse seems hauntingly familiar to Walt.
Order of Books » Characters »
21 Responses to "Order of Walt Longmire Books"