Order of Adrian Goldsworthy Books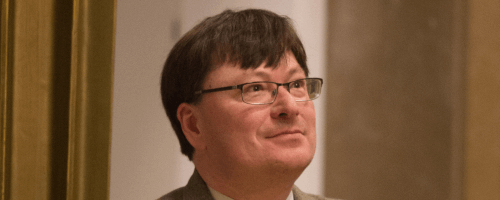 Adrian Goldsworthy is a British author of historical fiction and non-fiction books. He specializes in Ancient Roman history. Adrian studied Ancient and Modern History at St. John's College, Oxford, and earned a D.Phil. degree. He then spent two years as a Junior Research Fellow at Cardiff University and then taught part-time at King's College London. For six years, he was an assistant professor in the University of Notre Dame's London programme. Outside of writing and teaching, he enjoys watching cricket, walking, and playing tennis. Adrian lives in South Wales.
Adrian Goldsworthy made his debut as an author in 1996 with the non-fiction book The Roman Army At War. His debut as a novelist came in 2008 with True Soldier Gentlemen. Below is a list of Adrian Goldsworthy's books in order of when they were originally published:
Publication Order of City Of Victory Books
Publication Order of Napoleonic Wars Books
Publication Order of Vindolanda Books
Publication Order of Non-Fiction Books
Publication Order of Anthologies
If You Like Adrian Goldsworthy Books, You'll Love…
Adrian Goldsworthy Synopses: True Soldier Gentlemen by Adrian Goldsworthy is the first book in the Napoleonic Wars series. The 106th Foot is a new regiment full of young gentlemen who know nothing of war. William Hanley is in the army because he has no other method to make a living. Hamish Williams, a man without money or influence, is hoping war will make his name. Their friend Billy Pringle believes the rigours of combat will keep him from his habits of drinking and womanising. And for George Wickham, battle is simply another means of increasing his social status. When the band of four goes to war against the veteran armies of Napoleon, they find their illusions shattered and their lives changed forever as they face the brutality of the battlefield…
Beat the Drums Slowly by Adrian Goldsworthy is the second book in the Napoleonic Wars series. In the middle of winter, Sir John Moore is forced to retreat to Corunna. Up against unfavourable weather, and pursued by an overwhelming French army led by Napoleon himself, the very survival of Britain's army is at stake. But while the 106th Foot fights a desperate rearguard action, for the newly promoted Hamish Williams, the retreat turns into an unexpectedly personal drama. Separated from the rest of the army in the initial chaos, he comes upon another fugitive, Jane MacAndrews, the daughter of his commanding officer, and the woman he is completely in love with. As the pair battle the elements and the pursuing French, picking up a rag-tag band of fellow stragglers along the way – as well as an abandoned newborn – the strict boundaries of their social relationship are tested to the limit, with surprising results. But Williams soon finds he must do more than simply evade capture and deliver Jane safe and sound to her father. A specially tasked unit of French cavalry is threatening to turn the retreat into a massacre, and Williams and his little band are the only ones standing between them and their goal.
Vindolanda is the first book in a trilogy by Adrian Goldsworthy. In the year 98 AD, the bustling army base at Vindolanda lies on the northern frontier of Britannia and the entire Roman world. In a little more than two decades, the Emperor Hadrian will build his famous wall. But for now defences are weak as tribes rebel against Rome, and local druids preach the fiery destruction of the invaders. It falls to Flavius Ferox, Briton and Roman centurion, to maintain the peace. But it will take more than just the courage of a soldier to survive in Roman Britain.
The Fort is the first book in Adrian Goldsworthy's City of Victory series. In 105 AD, the Dacian kingdom and Rome are at peace, but no one believes it will be anything more than fleeting. Sent to command an isolated fort beyond the Danube, centurion Flavius Ferox can sense that war is on the horizon, but also knows that enemies may be closer to home.
Many of the Brigantes under his command are former rebels and convicts, as likely to stab him in the back as obey an order. And then there is Hadrian, the emperor's cousin, who has plans of his own…
Order of Books » Authors » Order of Adrian Goldsworthy Books