Order of Anthony Riches Books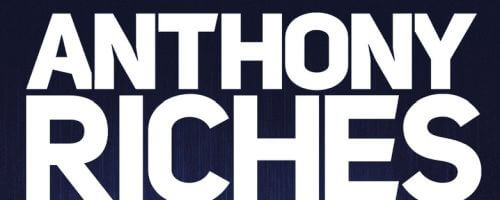 Anthony Riches is a British writer best known for writing the Empire series of books. He made his debut in the world of crime thrillers in 2021 with the release of Nemesis.
Riches had a lifelong interest in war and soldiers that began when his father told him stories about World War II. He went on to study Military Studies at Manchester University and earning his degree. Riches made a visit to Housesteads in 1996 which lead to him writing his first book Wounds of Honour. Anthony makes his home in Hertfordshire with his wife and three children.
Publication Order of Empire Books
| | | |
| --- | --- | --- |
| Wounds of Honour | (2009) | |
| Arrows of Fury | (2010) | |
| Fortress of Spears | (2011) | |
| The Leopard Sword | (2012) | |
| The Wolf's Gold | (2012) | |
| The Emperor's Knives | (2014) | |
| The Eagle's Vengeance | (2014) | |
| Thunder of the Gods | (2015) | |
| Altar of Blood | (2016) | |
| The Scorpion's Strike | (2019) | |
| River of Gold | (2020) | |
| Vengeance | (2022) | |
Publication Order of The Centurions Books
Publication Order of Michael Bale Books
If You Like Anthony Riches Books, You'll Love…
Wounds of Honour is the first book in the Empire series. Marcus Valerius Aquila lands in Britannia, but finds himself quickly condemned to death by the power-crazed emperor Commodus. He makes a plan to take on a new name and serve in an obscure regiment on Hadrian's Wall, as he hopes to obtain justice. The position proves to be less quiet than he imagined when a rebel army sweeps down from the wastes north of the Wall. Now, Marcus will have to take the lead of this century and head to the front lines of this brutal war.
Nemesis was Riches' first foray into writing a crime thriller. The story follows Mickey, an elite close protection officer, who has been given the tough job of guarding the Minister of Defence when Chinese-British relations are at their worst. That's just his job, when he's off work he's busy waging a war against a powerful London gang family that took his sister from him. Mickey's work towards revenge that he does off the clock is not legal at all and if his colleagues on the force find out, it could be the end of him.
Order of Books » Authors » Order of Anthony Riches Books