Order of Ashley Weaver Books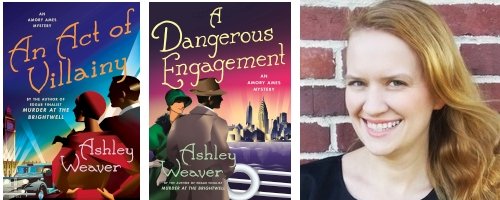 Ashley Weaver is an American author who is known as the author and creator of the Amory Ames Mysteries. She is a lifelong resident of Louisiana and works in the library system when she's not writing.
In addition to writing books, Ashley also works as the Technical Services Coordinator for the Parish Libraries in Louisiana. She has worked in libraries her whole life, starting when she was just 14 as a page. She would move up to clerk before heading to college where she received her MLIS from Louisiana State University.
Publication Order of Amory Ames Books
Publication Order of Electra McDonnell Books
Publication Order of Children's Books
Publication Order of Cozy Case Files Mystery Sampler Books
If You Like Ashley Weaver Books, You'll Love…
The first book in the Amory Ames series is called Murder at the Brightwell. Amory is engaged to Milo, he has a reputation as a playboy and she is considering making a change before they tie the knot. When her former fiance Gil calls asking for help, she is all too eager. Little does she know that she will soon find herself tied up in a murder investigation. Gil is having his own marriage problems as his sister is engaged to a disreputable ladies man and asks Amory to help stop it. They don't need to though when Rupert, the ladies man fiance, is murdered and Gil is accused of the crime. Amory will have to use her wits to clear Gil's name and help figure out if she wants to marry Milo, or try things again with Gil.
Another good book in the series is A Dangerous Engagement and sees Amory heading to New York for a childhood friend's wedding. Prohibition is in full swing and the trip looks as if it may be dull, but turns out to be anything but when a member of the wedding party turns up dead on the bride's doorstep. Amory finds herself drawn into another mystery with the backdrop of New York's criminal underworld making it one of her most dangerous yet.
Order of Books » Authors » Order of Ashley Weaver Books