Order of Brian Aldiss Books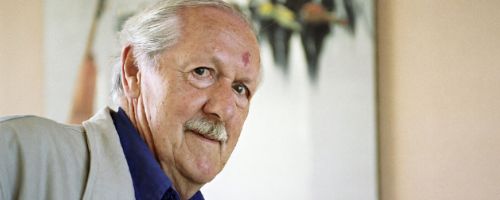 Brian W. Aldiss (1925-2017) was an English author of science fiction novels and short stories. Aldiss grew up reading the works of H.G. Wells, Robert Heinlein and eventually Philip K. Dick. Prior to becoming an author, he served in the Royal Signals in World War II (where he saw action). Following the war, he worked as a bookseller. During this time, he wrote short stories for a trade journal, which got the attention of an editor at Faber and Faber. His career was decorated with such awards and accolades as being named a Grand Master by the Science Fiction Writers of America, being inducted into the Science Fiction Hall of Fame, two Hugo Awards, one Nebula Award and one John W. Campbell Memorial Award.
Brian Aldiss debuted as a novelist in 1954 with the novel Starswarm. Below is a list of Brian Aldiss' books in order of when they were originally published:
Publication Order of Horatio Stubbs Books
Publication Order of The Squire Quartet Books
Publication Order of Helliconia Books
Publication Order of Standalone Novels
Publication Order of Short Story Collections
Publication Order of Best SF Anthologies
(with Harry Harrison)
Publication Order of Non-Fiction Books
Publication Order of The Year's Best Science Fiction Books
Publication Order of The Year's Best Science Fiction Anthology Books
Publication Order of Nebula Awards Books
Publication Order of Anthologies
Notes: Bow Down to Nul was also titled The Interpreter. Hothouse is also known as The Long Afternoon of Earth. Cryptozoic! was also published as An Age. White Mars, co-authored by Roger Penrose, was also published as The Mind Set Free: A 21st-Century Utopia. Tales from the Planet Earth is a collaborative novel, written with several other authors.
Galaxies Like Grains of Sand is also known as The Canopy of Time. Comic Inferno is also known as The Book of Brian Aldiss. The Inner Landscape also has stories by J.G. Ballard and Mervyn Peake. The Secret of This Book is also known as Common Clay. Four for Fantasy also has stories by Joanne Harris, Joe Hill and Richard Christian Matheson.
All Best SF anthologies, both Astounding-Analog Reader anthologies, Nebula Award Stories 2, Farewell, Fantastic Venus! (aka All About Venus), Decade the 1940's, Decade the 1950's and Decade the 1960's were co-edited with Harry Harrison. Each Best SF anthology was alternately titled The Year's Best Science Fiction [#] (ie. The Year's Best Science Fiction 1 for Best SF: 1967).
Trillion Year Spree was co-authored by David Wingrove. When The Feast is Finished was written alongside Margaret Aldiss.
If You Like Brian Aldiss Books, You'll Love…
Brian Aldiss Synopses: The Brightfount Diaries is a standalone novel by Brian Aldiss. In a small provincial city, Peter lives with his long-suffering Aunt Anne and his eccentric Uncle Leo, and works in a bookshop called Brightfount's, which he describes as a "shabby outpost of literacy." Cutting the apron strings, he moves into a bed-sit and composes these witty diaries, in which he includes amusing remarks about publishers, authors, booksellers and customers, a revelation about his dotty uncle, and his efforts to find "a suitable girl."
Hothouse by Brian Aldiss is a standalone title. The Sun is about to go Nova. Earth and Moon have ceased their axial rotation and present one face continuously to the sun. The bright side of Earth is covered with carnivorous forest. This is the Age of vegetables. Gren and his lady – not to mention the tummybelly men – journey to the even more terrifying Dark side.
In Dracula Unbound by Brian W. Aldiss, two men transcend the dimension of time and save a dying world in a battle against the most elusive and deadly creatures ever to stalk the earth.
Order of Books » Authors » Order of Brian Aldiss Books