Order of Camilla Bruce Books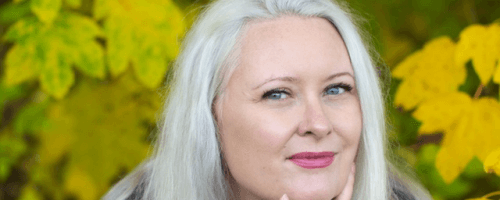 Camilla Bruce is a Norwegian author of historical fiction, speculative fiction, and suspense novels. Camilla grew up in an old forest, right next to an Iron Age burial mound. She earned her Master's degree in comparative literature. She co-owned and operated a small publisher of dark fairy tales. Camilla, her son, and their cat currently reside in Trondheim, Norway.
Camilla Bruce made her debut as a novelist in 2020 with You Let Me In. Prior to that, she had contributed to and co-edited anthologies. Below is a list of Camilla Bruce's books in order of when they were originally published:
Publication Order of Standalone Novels
| | | |
| --- | --- | --- |
| You Let Me In | (2020) | |
| In the Garden of Spite / Triflers Need Not Apply | (2021) | |
| The Witch in the Well | (2022) | |
| All the Blood We Share | (2022) | |
Publication Order of Anthologies
If You Like Camilla Bruce Books, You'll Love…
Camilla Bruce Synopses: You Let Me In is a standalone title by Camilla Bruce. It is believed that Cassandra Tipp is deceased, but is this true? After all, the famous recluse and eccentric best-selling author has always been prone to erratic behavior. Everyone in town remembers the shocking events that led to Cassie's notorious trial (she may have been found not guilty, but the insanity defense only covers so much).
Cassandra Tipp has only left behind her enormous fortune and one final manuscript. She has no body. However, her husband Tommy Tipp, whose enigmatic dismemberment remains unsolved, and the shocking murder-suicide of her father and brother a few years later provide ample evidence. You will hear a story from Cassandra Tipp, but it will cost a lot. Who has Cassie been protecting all along, and what actually transpired in the woods? If you dare, read on…
In the Garden of Spite by Camilla Bruce is a standalone novel. In Chicago, they whisper about her. Men come to her with their expectations, their fantasies – their fortunes. However, nobody sees them depart. Nobody sees them by any stretch of the imagination after they come to approach the Widow of La Porte.
Indianans may have suspicions, but surely they would comprehend if they knew what she had given up, what was taken from her, and how she had suffered. It has been a long time since Belle Gunness realized that a woman must forge her own path in the world. Only that is it. A horrendous necessary evil. a glorious endeavor designed to transform her life from the bleak, lifeless slog she experienced as a child into the life she deserves. Vermin always survive, after all.
All the Blood We Share is a standalone novel by Camilla Bruce. On the Kansas plain, the winds twitch nervously, whispering tales of lost and buried travelers and witches. At the Bender Inn, something sinister and twisted has taken root.
Cherryvale's residents initially welcome Kate Bender and her family, a rising medium. Their dreary dreams are given hope by Kate's messages from the Beyond, and her mother's remedies treat their minor ailments—at a cost. Nobody knows about their other business, which provides a means of improving their life. Furthermore, why shouldn't their family thrive? They are cautious. The Benders only demand their pound of flesh from those who are marked, travel alone, and are prone to vanish.
However, even Kate, a gifted sage, can make mistakes. The Benders must hone their skills or else they will vanish themselves as the family orchard's hidden secrets threaten to ruin them all.
Order of Books » Authors » Order of Camilla Bruce Books