Order of Camilla Grebe Books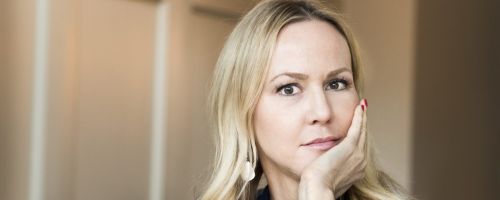 Camilla Grebe is a Swedish author best known for her Hanne Lagerlind-Schon crime series. The second book in the series, After She's Gone, was the winner of the Best Swedish Crime Novel Award as well as the Glass Key award.
Grebe attended school at the Stockholm School of Economics. After graduation, she would go on to co-found an audiobook publishing firm called Storyside where she served as CEO. She would make her debut as an author in 2012 when she and her sister Asa Traff published Some Kind of Peace, the first in the Siri Bergman series.
Publication Order of Hanne Lagerlind-Schon Books
Publication Order of Siri Bergman Books
Publication Order of Standalone Novels
If You Like Camilla Grebe Books, You'll Love…
The Ice Beneath Her is the first book in the Hanne Lagerlind-Schon series and her solo American debut. The book starts with an unidentified woman's body being found and the Stockholm police being sent to investigate. The death has a disturbing resemblance to an unsolved case from ten years ago, but this one has a suspect, CEO Jesper Orre who is nowhere to be found. Homicide detectives Peter Lindgren and Manfred Olsson are called onto the case and believe he is their man, but they need to find a motive. The two turn to the brilliant criminal profiler Hanne Lagerlind-Schön for help. The authorities aren't the only ones looking though, there is also Emma who had a romance with the CEO that ended when he disappeared. Emma and the police find themselves on a collision course in their search for Jesper.
Grebe debuted writing Some Kind of Peace with Asa Traff. The story follows psychologist Siri Bergman who is trying to put her past behind and move on with her life. However, she can't shake the feeling that there is someone watching her. When the body of one of her patients is found floating in the water near her cottage, she knows that she is right. She turns to her friends who try to help her profile the killer before he strikes again.
Order of Books » Authors » Order of Camilla Grebe Books