Order of Carin Gerhardsen Books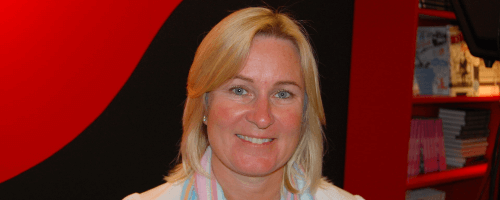 Carin Gerhardsen is a Swedish author of crime fiction novels. She writes the Hammerby series. Carin began as a mathematician, and later worked as an IT consultant before becoming a full-time novelist. She uses her knowledge of mathematics in her fiction, along with experiences from her own life. Carin lives in Stockholm, Sweden with her husband and children.
Carin Gerhardsen made her debut in Swedish with the 1992 book På flykt undan tiden (roughly "On the Run from Time"). Her first book to be published in English was The Gingerbread House, which was published in Swedish in 2008 and translated in 2013. Below is a list of Carin Gerhardsen's books in order of when they were originally published:
Publication Order of Standalone Novels
Publication Order of Hammarbyserien Books
If You Like Carin Gerhardsen Books, You'll Love…
Carin Gerhardsen Synopses: Black Ice is a standalone novel by Carin Gerhardsen. It is January in Gotland, Sweden. The days are brief, the air is cold, and all the roads are covered in snow. On a deserted, icy backroad, these weather conditions will soon bring together a group of strangers with a force devastating enough to change their lives forever when, in the midst of a brief period, a deadly accident and two separate crimes occur – all leaving victims behind them.
Four years later, only a single phone call is necessary to bring back the bad memories of that day and to set a revenge plot into motion. For Sandra, it started as a regular winter day of shopping followed by a kind gesture from a stranger. For Jeanette, it began with the thrill of an illicit rendezvous with her lover. Both women had driven past the same icy ravine, but only one was in the car that caused a deadly crash, and only one left a man to die alone in the snow.
Each woman holds a secret from that day, a secret that, if revealed, could connect them to a larger, even worse transgression… And there is someone out there who knows the whole story, and who would rather kill than allow it all to come out.
The Gingerbread House by Carin Gerhardsen is the first book in the Hammarby series. Ingrid Olsson gets home from a Stockholm hospital to find a man in her kitchen. She's never seen the intruder before. But he's no threat – he's deceased. Criminal Investigator Conny Sjöberg takes the call, leaving his wife Åsa and their five children for the night. His team identify the body as that of a middle-aged family man. But why was he there? And who bludgeoned him to death? With no suspect or any sort of motive, Sjöberg's team struggles with what they have to work with until they finally link the case to another – apparently random – murder. And discover they face a serial killer on a terrible vendetta…
Cinderella Girl by Carin Gerhardsen is the second book in the Hammarby series. Three-year-old Hanna wakes up to find her family is gone. The doors in her house are locked. She is trapped. Meanwhile, a teenage girl has been found murdered aboard the Cinderella, a cruise ship that sails between Sweden and Finland. Detective Chief Inspector Conny Sjöberg visits the girl's home to inform her family of the bad news. But as he investigates, it becomes more and more apparent that the girl's younger sister is in grave danger – unless the police can trap a sadistic murderer. And at the same time, somewhere in Stockholm, one lonely little girl waits to be found and rescued…
Order of Books » Authors » Order of Carin Gerhardsen Books