Order of Carol McGrath Books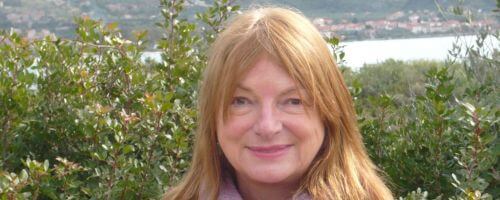 Carol McGrath is an author of historical fiction novels. Carol was born in Northern Ireland, and fell in love with history at a young age. She enjoyed exploring castles and archeological digs. She earned a History degree, and became interested in strong women who were ignored in the history books. Carol's novels have been noted for their intricacy, research, and powerful, moving stories.
Carol McGrath made her debut as an author in 2013 with The Handfasted Wife. Below is a list of Carol McGrath's books in order of when they were originally released:
Publication Order of Daughters Of Hastings Books
Publication Order of Rose Trilogy Books
Publication Order of Standalone Novels
Publication Order of Non-Fiction Books
Publication Order of Anthologies
If You Like Carol McGrath Books, You'll Love…
Carol McGrath Synopses: Mistress Cromwell (aka The Woman in the Shadows) is a standalone novel by Carol McGrath. Young widow Elizabeth Williams is determined the business she inherited from her merchant father successful. But an independent woman draws unwanted attention, and Elizabeth soon sees that she has enemies – enemies who know the dark truth about her late husband.
Happiness arrives when Elizabeth meets rapidly rising lawyer, Thomas Cromwell. Their marriage begins in mutual love and respect – but it isn't easy being the wife of an ambitious courtier in Henry VIII's London. The city is both merciless and filled with temptation, and Elizabeth soon realizes she must take care in the life she has chosen… or risk losing everything.
The Silken Rose by Carol McGrath is the first book in the Rose Trilogy series. It is the year 1236. Cultured and intelligent Ailenor of Provence is only thirteen when she meets her new husband, Henry III of England. A foreign and friendless princess in a strange land she is determined to please him. And she knows that when the times comes she must provide an heir, to secure the throne against those who would snatch it away.
Rosalind, a commoner skilled in the arts of needlework and embroidery, catches the young queen's attention and a friendship blossoms. But she is unprepared for the dangerous ramifications of winning the queen's favour …
As closeness, and soon love, develops between Ailenor and Henry, so too does her influence on her husband and her power at court. As France and Wales provide constant threat, and England's barons increasingly resent her influence, Ailenor must learn to be ruthless. Who should she encourage her husband to favour? Who can she trust?
Sex and Sexuality in Tudor England is a non-fiction book by Carol McGrath. The Tudor period has caused our imaginations to run wild. Because we have watched so many costume dramas on TV and film, read so many histories, factual or romanticized, we think we know how things were. We know there was romance but how did they do sex? In this affectionate, informative and fascinating look at sex and sexuality in Tudor times, author Carol McGrath peeks beneath the bedsheets of late fifteenth and early sixteenth-century England to offer a genuine understanding of the romantic and sexual habits of the people of that era. Find out the truth about 'swiving', 'bawds', 'shaking the sheets' and 'the deed of darkness'. Discover the infamous indiscretions and scandals, feast day rituals, the Southwark Stews, and even city streets whose names indicated their use for sexual pleasure. Explore Tudor fashion: the codpiece, slashed hose and doublets, women's layered dressing with partlets, overgowns and stomachers laced tightly in place. What was the Church view on morality, witchcraft and the female body? On which days could married couples indulge in sex and why? How were same-sex relationships perceived? How common was adultery? How did they handle contraception and how did Tudors try to cure venereal disease? And how did people bend and ignore all these rules?
Order of Books » Authors »