Order of D.M. Quincy Books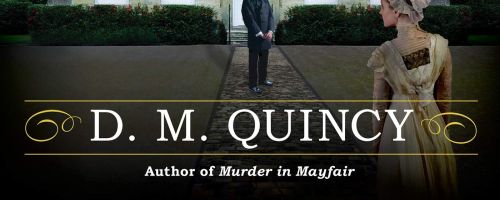 D.M. Quincy is an Emmy-nominated journalist as an author. In the world of books, she is best known for writing the Atlas Catesby Mystery series. The first book in the series, Murder in Mayfair, was a Library Journal Best Book of the Year.
Quincy grew up as the daughter of a U.S. Foreign Service representative which meant that she much of her time roaming the world and living in different places. Books were definitely a solace to her in her youth and the experiences of traveling show up in the Atlas Catesby series. After returning home for college, she went on to become a television journalist and covered dozens of crimes in her career. Many of the cases went unsolved which definitely helped to inspire her to write books where they can actually catch the killer.
Publication Order of Atlas Catesby Books
If You Like D.M. Quincy Books, You'll Love…
Murder in Mayfair takes place in 1814 and follows, a young adventurer and son of a baron. He is ready to renew his travels after recovering from an injury, but finding a helpless woman being auctioned off to the highest bidder stops him in his tracks. He wants to save the woman from being violated by a potential buyer so he buys her himself and sets her free. The women is desperate to return to her sons, but the laws of England at the time favor the father. Weeks later, her husband is murdered and she is the prime suspect so she looks to Atlas for help in clearing her name.
The series continues with Murder in Bloomsbury. In this book, Atlas is back as the brother of Lilliana's maid died of arsenic poisoning. The authorities believe it is an accident, but his sister suspects murder and will look to Atlas for help in the matter.
Order of Books » Authors »