Order of Frank Delaney Books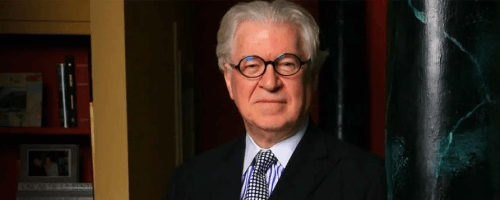 Frank Delaney (1942-2017) was an Irish author. He was also a journalist, broadcaster, screenwriter, playwright, lecturer and more. After spending years covering the Troubles in Ireland for RTÉ, he covered books and the publishing industry for BBC Radio 4 on his weekly program "Bookshelf." He interviewed thousands of authors over the next five years. He later wrote and presented for the BBC weekly TV show "Omnibus."
Frank Delaney made his debut as an author in 1981 with the non-fiction book James Joyce's Odyssey. His first fiction book was an anthology he edited entitled Silver Apples, Golden Apples in 1987. His first full-length novel was 1992's The Sins of the Mothers. Below is a list of Frank Delaney's books in order of when they were first published:
Publication Order of Ireland Books
Publication Order of Storytellers Books
Publication Order of Standalone Novels
Publication Order of Chapbooks
Publication Order of Non-Fiction Books
Publication Order of Anthologies
If You Like Frank Delaney Books, You'll Love…
Frank Delaney Synopses: The Amethysts by Frank Delaney is a standalone novel. Nicholas Newman, an English architect, is on vacation to recover from the brutal death of his lover Madeleine when he comes across a small amethyst carving in a photo of a Hungarian couple. He quickly finds himself somewhere that brings back memories of the Holocaust.
Ireland is a standalone title by Frank Delaney. In the Irish countryside, Ronan O'Mara, then nine years old, is visited by a storyteller -the last practitioner of a revered, centuries-old art form – in the winter of 1951. Before moving on, the old gentleman captivates his local audience for three wonderful evenings with tales of foolish kings, fabled saints, and Ireland's lasting achievements. But these nights make a lasting impression on young Ronan, and they set him on a year-long search for the elusive, wandering storyteller and the glorious tales that tell the story of his tenacious, extraordinary island.
Jim Hawkins and the Curse of Treasure Island by Francis Bryan (aka Frank Delaney) is a standalone novel. The hero of Treasure Island, cabin boy Jim Hawkins, has grown up. From behind the bar, he regales guests with tales of Long John Silver, Ben Gunn, Billy Bones, and the parrot that cries "pieces of eight, pieces of eight" – Cap'n Flint. He has expanded and improved the family inn, the Old Admiral Benbow, on Somerset's coast with his South Seas fortune. The mail coach then drops off a lovely stranger and her young son one day and asks Jim to help her find Joseph Tait, one of the pirates they left behind on Treasure Island.
My Dark Rosaleen is a chapbook by Frank Delaney. While driving along Ireland's east coast, a young girl and an enigmatic elderly man are picked up by bank cashier Patrick Newman. A national scandal emerges from these minor occurrences, becoming Newman's worst nightmare and eventually posing a threat to his mental health and life.
Tipperary by Frank Delaney is the first book in the Ireland series. In 1860, Charles was born into a well-known Irish-Anglo family. He is passionate about his home country and the long-suffering but unstoppable people there. He travels the countryside as a healer, giving out traditional treatments while also learning about myths and legends from bygone eras. He also sees the painful, often violent birth of land reform measures that will lead to Irish independence.
When Charles, who is forty years old, is summoned to Paris to treat Oscar Wilde, a famous fellow countryman who is terminally ill, he experiences a turning point in his life. He meets April Burke, an English teenager who is beautiful and determined, by chance. He is immediately and deeply in love with her, but he is rudely rejected. Charles returns to Ireland with the intention of improving himself. There, he takes on the task of preserving the enormous, abandoned estate of Tipperary, where he has spent his entire life, and discovers that it may belong to April and her father.
Charles writes the "History" of his own life and country as he pursues his obsession. He does this and meets Charles Parnell, William Butler Yeats, and George Bernard Shaw, all of whom were significant figures at the time. He also gets hurt by lesser-known characters who end up being much more dangerous. Tipperary likewise includes a second "history specialist:" a contemporary commentator, a forgotten retired history teacher who suddenly realizes that the telling of Charles's story has a lot at stake.
Order of Books » Authors » Order of Frank Delaney Books