Order of Jean Grainger Books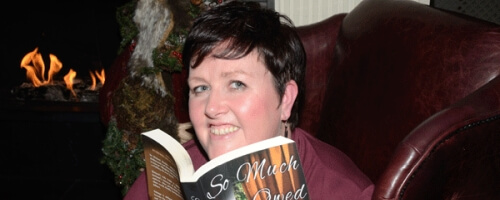 Jean Grainger is an author of historical Irish fiction. Her work has drawn comparisons to the great Maeve Binchy. She is proud of her home, a 200-plus year old stone cottage in rural County Cork, Ireland.
Before writing, Grainger worked as a tour guide in Ireland so she knows her way around the countryside and all of the best spots. She would later work as an English and History teacher in a boy's secondary school. She loved those jobs, but the lure of writing was too strong and she eventually turned to writing fiction where she could spend her days in her pyjamas and writing stories.
Publication Order of Carmel Sheehan Books
Publication Order of Conor O'Shea / The Tour Books
Publication Order of The Kilteegan Bridge Story Books
Publication Order of Mags Munroe Books
Publication Order of Queenstown Books
Publication Order of Robinswood Books
Publication Order of The Star and the Shamrock Books
Publication Order of Standalone Novels
Publication Order of Short Stories/Novellas
Publication Order of Anthologies
If You Like Jean Grainger Books, You'll Love…
What Once Was True is the first book in the Robinswood Story Book series, that focuses on the Irish in World War II. Lord and Lady Kanefick live in a grand house with their adult children, but no longer have the money to keep such a large house and the property is starting to dwindle. The Murphy family live on the estate and do their best to keep things up, but there is only so much they can do. The families maintain their social structure, but the war has a way of messing things up and both families find themselves drawn into the conflict.
Another series by Grainger is The Tour and it is a first book in a series with the same name. Conor O'Shea is a tour guide who has given hundreds of tours in his life, but the one he is about to go on is going to be far different. Conor is taught to avoid conflict, but the passengers start uncovering truth and facing truths about themselves that change their lives. Conor will try to watch from the sidelines, but life might have different ideas.
Order of Books » Authors »
3 Responses to "Order of Jean Grainger Books"