Order of Gareth L. Powell Books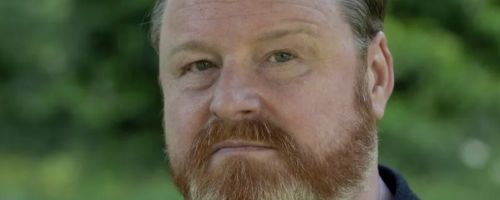 Gareth L. Powell is an English author of science fiction novels. He grew up in the West Country, and studied humanities and creative writing at the University of Glamorgan (now the University of South Wales). He has given lectures on creative writing at various universities in the United Kingdom. Gareth is a multi-time BSFA Award for Best Novel winner. He lives in North Somerset, England with his two children, and is engaged to fellow SF author J. Dianne Dotson.
Gareth L. Powell made his debut in 2008 with the short story collection The Last Reef. His first novel was Silversands in 2010. Below is a list of Gareth L. Powell's books in order of when they were originally published:
Publication Order of Ack-Ack Macaque Books
Publication Order of Embers Of War Books
Publication Order of Stars and Bones Books
Publication Order of Standalone Novels
Publication Order of Short Story Collections
Publication Order of Non-Fiction Books
Publication Order of The Year's Top Ten Tales of Science Fiction Anthology Books
Publication Order of Anthologies
If You Like Gareth L. Powell Books, You'll Love…
Gareth L. Powell Synopses: Silversands is a standalone novel by Gareth L. Powell. At a time when interstellar travel is dangerous and unpredictable, and no one knows exactly where they'll be taken, Avril Bradley is a Communications Officer aboard a ship dispatched to re-establish contact with as many lost souls as possible. But a mysterious explosion strands her in a world of political intrigue, espionage and subterfuge; a world of retired cops, digital ghosts and corporate assassins – all vying to possess vital computer data that has lain hidden for almost a century…
The Recollection is a standalone title by Gareth L. Powell. Centuries ago, Ed and Alice Rico went through a mysterious portal on the London Underground, hunting for Ed's lost brother and Alice's husband, Verne. Now, starship captain Katherine Abdulov heads out on a race against ruthless rival captain – and her former lover – Victor Luciano, to try and regain her family's trust. Tomorrow, all their lives will be thrown together by disaster, as an ancient evil stirs among the stars, threatening the survival of all life…
Ragged Alice by Gareth L. Powell is a standalone novel. Orphaned since she was young, DCI Holly Craig grew up in the small coastal town of Pontyrhudd, Wales. As soon as she could, she ran away to London and joined the police force. Now, fifteen years later, she's back in her old hometown to investigate what seems at first to be a simple hit-and-run, but which turns into something much deadlier and unexpectedly personal – something that she will need all of her peculiar talents to solve.
Entropic Angel and Other Stories is Gareth L. Powell's first collection in almost a decade. It includes twenty stories, including four that have never been published, along with some of the author's personal favourites. The collection promises to be both entertaining and thought-provoking.
In Stars and Bones by Gareth L. Powell, 75 years into the future, the human race has left a dying Earth to travel the stars in a vast fleet of arks – each shaped by its inhabitants into a diverse and fascinating new environment, with its own rules and unique traits. When her sister disappears while responding to a mysterious alien distress call, Eryn insists on being part of the search team. What she discovers on Candidate-623 is both horrifying and deadly. When the threat follows her back to the fleet and people start dying, she must find a legendary recluse who may be the only one to save humanity.
Order of Books » Authors » Order of Gareth L. Powell Books