Order of Grant McKenzie Books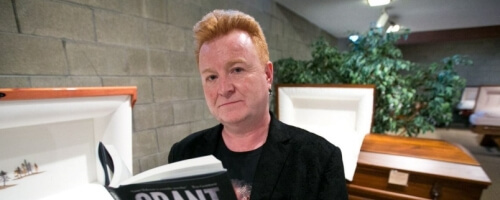 Grant McKenzie is a Scottish thriller author who now lives in Canada. He is known for writing edge-of-your-seat thrillers including the Ian Quinn series of books. McKenzie is also the author of the Dixie Flynn series which was published under the pen name of M.C. Grant.
Grant McKenzie also worked as a journalist. He worked his way through the industry from working the late-night murder beat at a daily tabloid to a copy/design editor and Editor-in-Chief of a Monday magazine. McKenzie lives in Victoria, BC where in addition to his writing he works with people experiencing homelessness and poverty.
Publication Order of Ian Quinn Books
Publication Order of Standalone Novels
Publication Order of Short Stories/Novellas
If You Like Grant McKenzie Books, You'll Love…
The Fear in Her Eyes is the first book in the Ian Quinn series. Quinn is a child protection officer and in his work he's become accustomed to anonymous death threats. Parents are looking for someone to lash out at in these situations and Quinn is good at making himself an easy target. This latest threat is different though. A vagrant gives him an envelope and says to him "He says he's sorry" before running away. The envelope contains a visitor's pass to the Oregon State Penitentiary and only seven written words: I was paid to kill your daughter. Everything that Ian believed about the worst event of his life is a lie and now he's out to find out why.
Another book by McKenzie is No Cry for Help. Bus driver Wallace Carver sees his worst fears come to life when his family fails to meet him at the Bellingham, Washington mall. His wife and sons have vanished for no reason with no cry for help and no ransom. The security cameras inexplicably show that he crossed the border alone, something he knows isn't true. Carver will take matters into his own hands to find out who took his family and to get them back.
Order of Books » Authors » Order of Grant McKenzie Books